BY MARIELLE D. MARNE | JANUARY 21, 2015
New location for Morris, Hall & Kinghorn, but steadfastly the same superior estate planning service
CAREFREE – Sometimes it's hard to find a premier estate planning law firm, but thanks to Morris, Hall & Kinghorn's north valley relocation, it just got easier. The new office at 7208 E. Cave Creek Rd., Ste. A is visible from the road and has ample parking.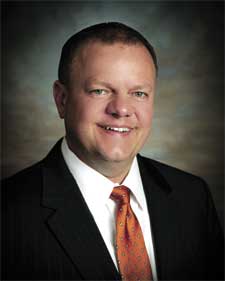 Of course, MLK has been around for more than 40 year so as to preserve wealth and estate assets through estate preservation plans. With its main office in Phoenix, an open house will be upcoming (watch Sonoran News ads or visit www.morristrust.com) at its Carefree branch so neighbors can meet not only West Hunsaker, Esq. (l), whom clients primarily find there, but several other attorneys and staff. Enjoy refreshments, ask questions, find out how to start out 2015 on a firm foundation when it comes to protecting your family after you are gone, especially in this era of ever-changing tax laws.

For its excellence, MHK was recognized by Legal Leaders as Arizona's Top Rated Lawyers most recently for 2014, 2013, 2012. Ranking Arizona also applauded Morris, Hall & Kinghorn for being the number one estate planning firm in the state. Of course, what pleases its lawyers most is when they hear clients say: "Thanks. You really helped me to understand" or "You know, you're different from other firms" and subsequently refer family, friends and/or coworkers. Clients appreciate the fact MHK charges flat fees and they aren't sent a bill every time they have a quick query. They are even savvy about pet planning for the four-legged "kids." Different, indeed!

But find out for yourselves at the open house. Be sure to seek out Hunsaker, who is most-oft based in Carefree. He's community-minded, being president-elect to the Carefree Kiwanis as well as co-chair to both Phoenix Children's Hospital Foundation and Make-A-Wish Foundation's National Policy Advisory Council.

Call 480-455-3693 or 602-249-1328 for a complimentary initial consult or a review of your current trust.