JANUARY 21, 2015
Lifestyle Home Care provides care the way You want!
CAVE CREEK – At some point many of us will need help in caring for a loved one such as an aging spouse, an elderly parent, an expecting Mom, or an injured athlete in the family. If you've ever wondered, "I wish I could find someone to do all the things around the house and take care of my honey," then you have come to the right place.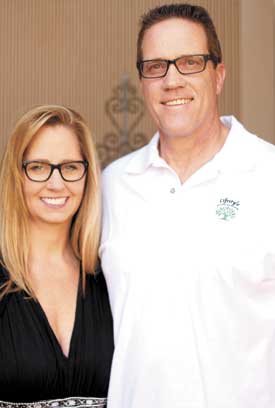 Privately owned by a former Navy veteran who has seen the need for quality care, your loved ones can remain in their home instead of leaving their comfort zone. Owners Frank and Brenda Bijak (r) provide peace of mind; they have over 19 years of healthcare experience and stay current with the latest home care trends. They even guarantee your absolute satisfaction!

Lifestyle Home Care provides numerous care services to those in need. That includes personal care like grooming, bathing, dressing, etc. They also provide companion care services where they spend meaningful time with your loved one. Transportation services to/from doctor's visits and other errands are also provided. They even cook meals, ensure you take your medications correctly and provide housekeeping services such as laundry, cleaning and more.

Do you need a break as the primary caregiver for your loved one? Lifestyle Home Care provides respite care services specifically designed to give you needed time off in this situation. They can provide the services as often as needed, including overnight care and 24-hour around the clock care. They do this all in the comfort of your home, or wherever you may call home, such as an independent living facility or a hospital.

Their caregivers are highly screened by management and carefully selected to match your needs. They are passionate, trained and experienced caregivers who are committed to outstanding care. And their caregivers are also company employees backed by a company that is licensed, bonded and insured. And don't forget their satisfaction guarantee. If you are shopping for quality care, you owe it to yourself to check out Lifestyle Home Care.

You can follow them on Twitter and Facebook for the latest updates. Visit them online at www.lifestylehomecare.net or call 480-219-4776 and mention this article for a 10 percent discount.