BY MARIELLE D. MARNE | JANUARY 21, 2015
The Heritage at Carefree raises standards for senior living
CAREFREE – Talk to any one of the Canzonetta family members and their enthusiasm for the Heritage at Carefree is evident. "It's the best; it's the most wonderful place," Justine Canzonetta immediately offered. "We get three meals a day, there's Bingo on Wednesday and Friday, 'Happy Hour' on Thursday."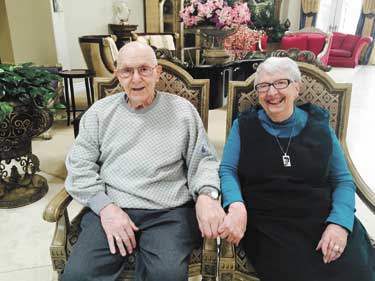 Justine and husband, Anthony, have been enjoying retirement living at the Heritage since August, 2014. As many seniors can be when faced with leaving their longtime homes, Justine was resistant to move. With this in mind, the five adult children of the Canzonettas did their due diligence and checked out probably 20 facilities. "When we found this place," daughter Victoria said, "we were all in agreement. We couldn't be happier. They thought of everything."

The "they" behind the Heritage is the Holbura family. "Donna (Holbura) gives me the chance to sleep in peace at night," Victoria explained. Victoria said the Heritage is affordable and can be all inclusive or a la carte as needed. And it's additionally a nice balance between respect (they call her dad Mr. Tony or Mr. Anthony) and camaraderie (whereas the residents feel like family/friends). What stood out the most on their initial visit was that Holbura queried the Canzonetta family to see what THEY expected. "We weren't told how they do things there like most places did. People really need to look around before they decide where to settle," Victoria added. She knows others will find the Heritage first class.

Justine admits her hesitation evaporated and now the Heritage IS home. "The staff is so kind, so gentle." Husband Anthony needs a little more care than she does at this time and it was crucial to her that he was not only in good but the best hands.

The Heritage is just shy of 60 residents, and the Canzonettas will tell you any one of them will talk up the place, the staff, the food, the views, the activities.

Call for an appointment at 480-488-1622 or take a virtual tour at www.heritagecarefree.com or be wowed in person at 36590 N. Pima Rd. It's senior living the carefree way!