JANUARY 14, 2015
Arizona town's ordinance allows signs for big politicians, but not small churches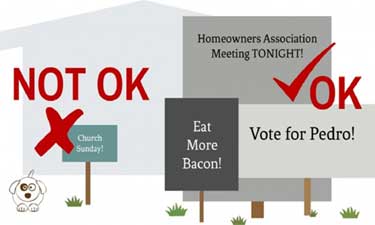 WASHINGTON, D.C. – The U.S. Supreme Court's first oral argument of 2015 was the First Amendment case regarding an Arizona town's arbitrary discrimination against religious speech.

In Gilbert, Arizona, controversial sign regulations allow large political, ideological, and other signs to stand for months, but demand that pastors, like Clyde Reed of Good News Community Church, stick to signs less than half that size and pull them down after fourteen hours. Small houses of worship such as Good News Community Church rely on signs to invite people in the community to their service, since they have often do not have a permanent location and have limited means to share their message. Now they face fines and possible jail time for practicing their freedom of speech.

"Perhaps we shouldn't be surprised that politicians would give their signs special privileges," said Eric Rassbach, Deputy General Counsel of the Becket Fund for Religious Liberty. "But that doesn't make it right: What churches say should not be treated as second-class speech."

Under the town's ordinance, signs placed by houses of worship must be 60 percent smaller than ideological signs (20 sq. ft.) and about 81 percent smaller than political signs (32 sq. ft). Church or synagogue signs can be displayed for only fourteen hours, while political signs can stand for months, and ideological signs indefinitely.

"The Court should not let Gilbert away with the excuse that it was 'just chance' that it treated churches much worse than political or commercial advertisers," said Rassbach. "Gilbert's rules don't treat people equally, and that violates the First Amendment."

Alliance Defending Freedom's is representing Good News Community Church and Pastor Clyde Reed from this unfair ordinance. On September 2014, the Becket Fund for Religious Liberty filed a friend-of-the-court brief in this case.