JANUARY 14, 2015
Creative container gardening in the Desert Southwest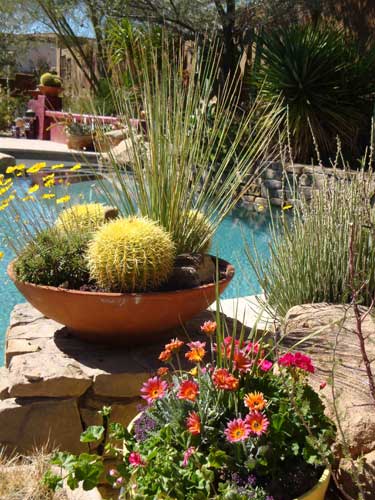 Containers, the grow-anywhere garden, allow you to grow what you like, where you like. You can even rearrange them. They provide instant effect in any landscape.

On Saturday, February 7, the Carefree Desert Gardens is delighted to present Carol Stuttard, a true English transplant. Carol, a gardening educator, will share with us the fascinating world of gardening in containers, including which planting mixes to use, correct watering techniques, maximizing microclimates and design features involving both pots and plants. Discover how to grow desert adapted plants, as well as cacti and succulents for year round successful container gardening.

Bringing her love of gardening from England to Phoenix, Carol, in 2001, was certified as a Master Gardener and was instrumental in implementing the Junior Master Gardener (school gardens) program. In 2006, through the Desert Botanical Garden, she became a Certified Desert Lanscape Designer. Her garden has been on tour and she has been featured in Phoenix Home & Garden, the New Times – Best of Phoenix, PBS and local TV. She teaches at the Desert Botanical Garden and Maricopa Community College.

The program will begin at 9:30 a.m. and run approximately until noon in the Town Council Chambers located in the U.S. Post Office Building, 100 Easy Street, Carefree. A $5 (or more) donation is appreciated to support these programs. For information call 480-488-3686.