JANUARY 7, 2015
Scottsdale Civil War Round Table presents Ed Bearss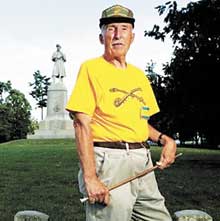 Scottsdale Civil War Round Table presents Ed Bearss … Another Evening with Ed Bearss: Your Questions Answered on January 20 at 6:40 p.m. at the Civic Center Library (Auditorium), 3839 N. Drinkwater Blvd, Scottsdale. Everyone is welcome. There is no admission charge.

How fortunate is the Scottsdale Civil War Round Table to have the pleasure of the U.S. Park Historian, Emeritus and the foremost Civil War historian on the planet back for another answer and question session!

"The Civil War Walking Encyclopedia"…better known as Ed Bearss is always a must attend meeting. This U.S. Marine Corps veteran of World War II is a speaker much in demand and has a busy schedule leading tours of historic battlefields. The Civil War Trust created the Edwin C. Bearss Lifetime Achievement Award for achievements in historic preservation and made him the first recipient in 2001. Don't miss this legend!

For more information: www.scottsdalecwrt.org or 480-699-5844.