DECEMBER 23, 2014
Alix Polydoros part of equestrian judging team that competed in Tulsa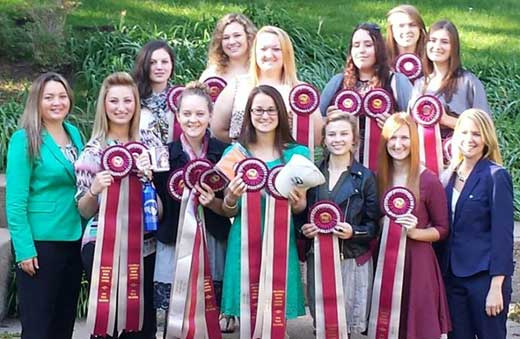 FULTON, Missouri (readMedia) – Two William Woods University equestrian judging teams and one alternate recently competed at the U.S. Arabian Nationals in Tulsa, Oklahoma. They were coached by Liz Kuda and Jennie Petterson.

Alix Polydoros of Scottsdale was one of the competitors.

The competitors judged four halter classes and six performance classes, which include reining, show hack, hunter pleasure, country English pleasure, hunt seat equitation and western pleasure.

Team A members Alix Polydoros, Marissa Boster, Jessica Scharenbroch, Kayleigh Pivonka, and Sarah McRae finished with third place in the halter division and ranking fifth overall in the collegiate division.

Team B representatives Sarah Seidel, Hannah Overton, Jane Bond, Elise Fleischman and Ashley White earned fifth overall in the performance division.

Sophomore Hannah Overton obtained two individual placings, seventh as an individual in the performance division and 10th in the contest overall.

"I was very happy with our results," Petterson said. "We had a number of students who improved their scores from last year and Hannah's individual awards were very exciting for the whole group. We were able to catch up with a number of WWU graduates at the show and it was great to introduce our current students to graduates successfully working at the event."

William Woods University is an independent, professions-oriented, liberal arts-based institution serving the educational needs of both men and women. William Woods has an enrollment of about 3,000 students, and offers undergraduate and graduate degrees in a variety of disciplines in campus and outreach settings and online.

The 200-acre main campus is located in the mid-Missouri community of Fulton. Since its founding in 1870, the mission of William Woods has been to provide a quality education while ensuring the development of the individual.