BY LINDA BENTLEY | DECEMBER 17, 2014
Prinzhorn to cut off water supply to Rancho Mañana Golf Course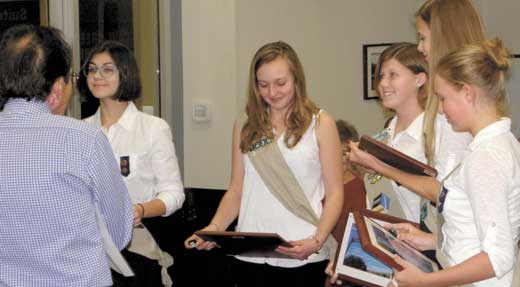 Members of Girl Scout Troop 1838 were publicly recognized by council during Monday night's council meeting for their hard work and dedication for improvements made to Desert Awareness Park. Photo by Linda Bentley


CAVE CREEK – John O'Malley was first up during Call to the Public to ask the town to repair Tandem Drive, which he said has had more than 40 Band-Aid repairs on the pipeline, which he said was also leaking again.

O'Malley said his wife Eileen Coffee, who walks every morning, fell in 2010, due to poor road conditions, and broke three ribs.

Despite walking with a staff, he said Coffee tripped over an exposed rock and fell again last week and this time incurred three hematomas.

When he visited town hall, O'Malley said he was told they would blade the road.

O'Malley asked the town to make permanent repairs.

Mayor Vincent Francia asked O'Malley to stay for Town Engineer David Prinzhorn's update report on planned road and utility improvements.

Mark Lipsky also spoke, first commending Vice Mayor Adam Trenk for attending two consecutive council meetings.

Lipsky wanted to know who made the unilateral decision to stop supplying CAP and ground water to Rancho Mañana Golf Course.

He said he found it terrifying such an enormous decision was being made behind closed doors.

Apparently neither council nor Town Manager Peter Jankowski, nor Rancho Mañana, for that matter, were aware of the plan, which an e-mail from Prinzhorn to staff members later revealed would cut off supplying CAP water and Vermeersch Well water, with arsenic levels far too high to be treated for potable water, to the golf course, effective Jan. 1.

According to Prinzhorn, the Water Advisory Committee (WAC) reviewed the existing water delivery contract with Rancho Mañana Golf Course and "has determined that the golf course is only entitled to treated wastewater effluent and not to any waters that could be used for potable use."

Prinzhorn made the decision, unilaterally, to discontinue providing Rancho Mañana Golf Course with non-potable water and admittedly did so prior to completing final dilution calculations to determine if blending Vermeersch Well water with incoming CAP water will actually bring the arsenic levels down to federal standards.

Sonoran News will continue its investigation into this matter.

Jankowski announced he and some staff members would be out of the office on Wednesday and Thursday to attend court proceedings in an action filed against the town by Gerald Freeman.

Prinzhorn provided a mid-year update on town utilities and roadways, stating there were significant upgrades planned for the water utility as well as preventative maintenance to the wastewater treatment plant.

Part of his presentation included plans to pave both Tandem and Tally Ho drives at a cost of approximately $20,000 each.

Prinzhorn said the town was seeking help from FEMA, which would reimburse 90 percent of the cost, to fix roadway damages from the August and September storms.

Planning director Ian Cordwell introduced Eileen Yazzie, Maricopa Association of Governments (MAG) transportation program manager, who oversaw the Cave Creek-Carefree Transportation Framework Study.

Cordwell said council would only be accepting the recommendations, which were "not set in stone."

Francia clarified, if council were to approve the resolution accepting the study's recommendations, nothing would happen without coming back to council first for approval.

Yazzie said she recently visited Tolleson, which implemented the "node" idea similar to that being recommended for Cave Creek, and stated "You had a sense of place" with four traffic lanes pared down to two with bike lanes.

Mike Sabatini, transportation planning manager at Michael Baker Jr., Inc., which was contracted to do the study, provided council with highlights of the study.

He said the town has enough roads and didn't need more lanes.

According to Sabatini, if the town reduced traffic lanes to one in each direction at the activity nodes with traffic calming measures, bike lanes and sidewalks, it would only increase travel time by approximately one or two minutes.

Sabatini said he realizes the one lane in each direction is controversial but said he didn't want that to be the main focus.

He said the framework study allows the towns and MAG to seek additional funding for recommended projects.

Councilman Thomas McGuire asked if Tolleson has special events.

Yazzie said Tolleson did not and Cave Creek and Carefree were unique in that respect.

Councilman Mike Durkin asked, if there were only one lane in each direction, how could the town facilitate a parade and two-way traffic.

Sabatini indicated they could close one side of the street down for the parade and use the other side of the road, bike lane and pedestrian walkway for two-way traffic.

Councilman Charles Spitzer posed his question to Rural/Metro Fire Chief John Kraetz to ask how he felt about one lane in each direction.

Kraetz stated the town doesn't have alternative routes through town and said it would result in longer response times.

Francia asked if there was any way to accommodate horses, bicycles and pedestrians while maintaining two lanes in each direction.

Sabatini said the town would need cooperation from private property owners to obtain additional right-of-way.

During public comment, Lipsky said there were so many flaws in the approach of the study, including a study that combined Cave Creek and Carefree plus surveying visitors.

He said that was 180 degrees wrong.

Responding to the photo in the presentation showing Cave Creek's horse monument, Lipsky stated, "Cave Creek is not a Renaissance Fair" and said "Doing a study from the outside in instead of the inside out" was just wrong.

Korina Riggin said she attended the public meetings along with other locals and 70 percent supported the bike lanes.

She said the recommendations were "wonderful."

Kaolin Cummens strongly recommended council approve the resolution, called it a unique opportunity and suggested they look to Sedona for guidance, since they have one lane of traffic in each direction.

Sgt. Brian McFarland, a former 30-year Paradise Valley police officer who has been working for the town marshal for the past six years, said if the town were to have only one lane, "We'd have major traffic backups during special events."

Francia moved to approve the resolution accepting the study's recommendations contingent upon all recommendations requiring council approval, noting there is a lot of information in the report, and "The focal point is not one lane or two lanes."

Council voted unanimously to approve the resolution.

Town Accountant Robert Weddigen provided council with an update on the town's finances, providing comparisons to last year.

He said the town's finances have improved over the past three years but cautioned the economy has not yet fully recovered.

Weddigen mentioned there was sales tax revenue paid to Cave Creek in error by businesses that were apparently unaware of the fact they were not located in Cave Creek and that approximately $100,000 had to be paid back to the Arizona Department of Revenue.

Following his presentation, Councilman Reg Monachino asked a barrage of questions about various aspects of the report.

Council voted unanimously to approve a final plat amendment for Phase 2 of Hidden Rock at Cave Creek.

The amended plat reduced the number of townhome units from 72 to 33.

Council voted 6-1, with Monachino dissenting, to approve a resolution authorizing the mayor to execute a deposit control agreement to assure construction of public improvements facilitating development of Hidden Rock at Cave Creek subdivision.

The developer deposited $347,000 in a bank account and, as explained by Cordwell and Town Attorney Fredda Bisman, only after the town made inspections and authorized the release of funds, could the bank release them for payment.

Monachino expressed myriad concerns with the agreement, questioning how they would know if the funds deposited were sufficient, whether the developer actually has the authority to enter into the agreement, what the request for funds form looked like, right down to the use of the word "check" instead of "draft," claiming banks issue drafts and not checks.

The agreement was developed to address previous nonperformance issues by developers who have declared bankruptcy and resulted in land owners suing the town to provide the infrastructure developers failed to provide so they could obtain building permits.

Council voted unanimously to abandon a right-of-way along 24th Street between Tanya and Desert Hills roads after being assured by Cordwell the 40-foot stretch of right-of-way would never be needed by the town and did not connect to anything.

Council also voted unanimously to approve an expenditure not to exceed $30,000 to a sole-source provider, Sulzer EMS, for influent screen repair for the wastewater treatment plant.

McGuire asked Prinzhorn, "When there's only a single quote, how do we know we're getting value for our money."

Prinzhorn responded, "I can't answer that … It is what it is."

With the cancellation of the Jan. 5 council meeting, Francia announced there will be a special meeting for a council retreat at 6 p.m. on Jan.12.