DECEMBER 17, 2014
Kids Care Club gives thanks to local senior citizens
Kids Care Club, a local non-profit dedicated to getting elementary and middle school students involved in volunteering, held its first event at the Kumon of Cave Creek. The talented Scooter Scott, children's entertainer, kicked off the event with a hilarious magic act. After the show, parents and children decorated 150 dinner place mats for seniors at the Life Care Center of Paradise Valley. Activity Director Lorna Mattox and Bill Rassekh received the decorated placements on behalf of the center. Lorna stated that the placemats brought back happy memories of parenting young kids around the holidays. The residents also enjoyed reading the reflection activity that asked members to either draw a picture of their favorite senior citizen or answer question about what they like most about senior citizens.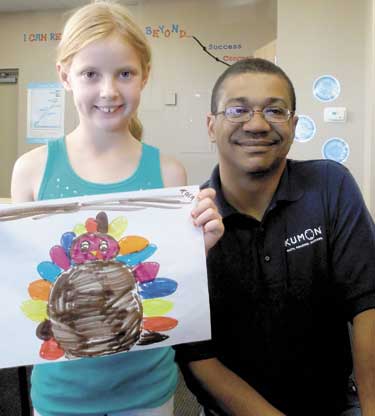 T. Dale Williams, Executive Director of Kids Club Care Cave Creek, stated "We are so thrilled with our inaugural event. We had over 30 families take time out of their schedule to do something nice for someone else. Developing a spirit of compassion in our young people is vitally important to our community."

Kids Care club organizes monthly volunteer event for children ages 7-13. There is no fee to join Kids Care Club. Members must only agree to participate in at least two events a year. Parent or guardian must participate in event as well. Interested parents may visit the Kids Care Club National website at www.generationon.org/kids-care-clubs for more program details and volunteer ideas. If you are interested in helping to setup an event or joining the club please contact kumon121@yahoo.com. Kids Care club is a registered and insured 501-C3 organization.