DECEMBER 17, 2014
'Inside Out & Upside Down' exhibit runs Jan. 2 – 30 at the FCF Holland Gallery of Fine Art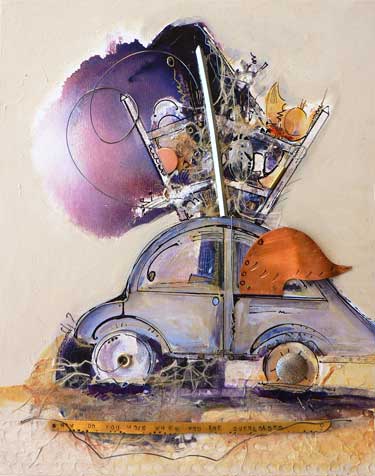 SCOTTSDALE – Artists Sue Avery Lewis and Mary LaRue Wells will exhibit their new work during a special show, "Inside Out & Upside Down" running Jan. 2 through Jan. 30 at the Holland Gallery of Fine Art at the Foothills Community Foundation (FCF), 34250 N. 60th Street, Bldg. B, in north Scottsdale. A free artist reception will take place at the gallery from 4:30 p.m. to 6:30 p.m. on Sat., Jan. 10.

Both artists spent their professional careers in the visual art world and they embrace the creative, imaginative thinking process with great joy. Mary LaRue Wells exhibited in galleries in Washington D.C. and New York City. Sue Avery Lewis was a career art educator at the high school and college levels with galleries in Iowa and Colorado.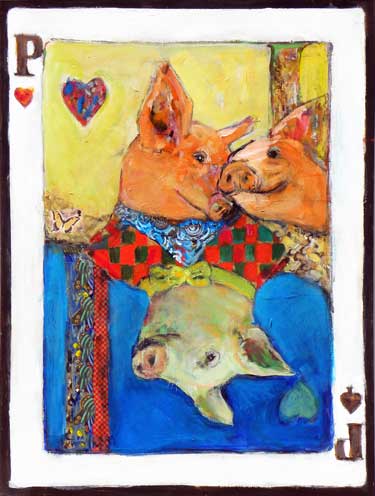 The show will include oil, acrylic, and mixed media paintings plus silver jewelry assemblages – all whimsical, playful, one-of-a kind pieces. Mary's work involves bizarre, surrealistic narratives. One collection involves playing cards which can hang upside up or upside down – each with its own twist.

All of Sue's pieces will be variations of her Vehicles of Inquiry series. The public is invited to metaphorically climb aboard the fantastical whirligigs and ponder answers to the questions asked by each, such as "What drives you to the edge?" or "When do you depart from the path of commonsense?"

For information and gallery hours, visit www.azfcf.org or call 480-488-1090.