DECEMBER 17, 2014
The natural, cultural landscape of Arizona's highways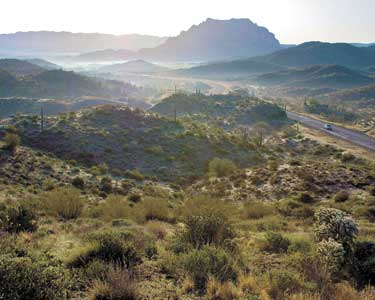 CAREFREE – LeRoy Brady, Chief Landscape Architect for the Arizona Department of Transportation (ADOT), believes highway design "requires blending the manmade surface features with the natural landforms and restoration of native vegetative cover. It includes using the inspiration of Native American and contemporary art form designs working together to create context appropriate solutions as well as interest on Arizona's highways. Good landscape design results in highway projects that are 'context sensitive' and cultivates a 'sense of place' while laying the highway softly on the face of the earth."

For nearly four decades, LeRoy Brady has managed ADOT's roadside development programs in all aspects – from design to erosion control. During that time, he has been recognized with numerous awards and honors.

Back by popular demand, on Saturday, January 10, Carefree Desert Gardens presents Mr. Brady in a program beginning at 9:30 a.m. and running approximately until noon in the Town Council Chambers located in the U.S. Post Office Building, 100 Easy Street, Carefree. A $5 (or more) donation is appreciated to support these programs. For information call 480-488-3686. This is the first of four programs of the Winter 2015 season.