DECEMBER 10, 2014
Social worker wins top honors at city Employee Awards Program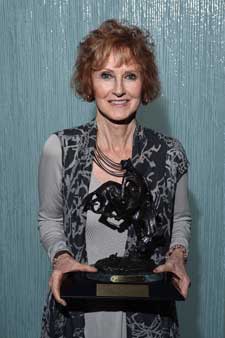 SCOTTSDALE – Every Thursday morning for the past 20 years Human Services Coordinator Donna Brower (r) arrives at the office before dawn to get more than 200 brown bags prepped and volunteers organized to receive and bag a truckload of food from the St. Mary's food bank. The bags are then delivered to the city's most vulnerable seniors. For her efforts – and many others – Brower has been awarded the 2014 Herbert R. Drinkwater Award at the city's annual awards ceremony.

The Drinkwater Award is named in honor of the former mayor who served four terms and became one of the most popular elected officials in the state. Drinkwater retired in 1996 and passed away a year later. The award, now in its 17th year, goes to an employee or group of employees who set an outstanding example through their volunteerism and dedication to serving others.

Brower is also an essential and active leader for the Adopt-a-Senior and Beat the Heat programs; facilitator for various senior center support groups and a representative on a statewide hoarding task force. Her supervisor Human Services Manager Tim Miluk had this to say, "Donna has consistently, positively and professionally displayed many of the same qualities that Mr. Drinkwater did. Most importantly, like Herb, she gives of her heart and shows her compassion and love for the citizens and the community of Scottsdale."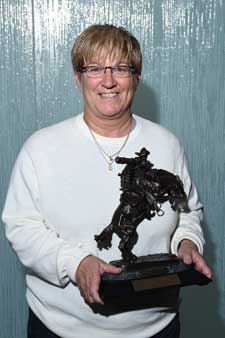 The city also recognized Landscape Contracts Coordinator Sandy Hlebaen (r) with the Donaldson Award. Named after a former city manager, the award is granted to an employee or group of employees who show great vision and innovation, help others through humanitarian efforts and work as team-builders.

Hlebaen is an important member of the city's emergency response team. She and her crew respond to various situations like downed trees, road flooding, car accident cleanups and roadway obstructions. She always has a can-do attitude and is willing to take on any task. Hlebaen spends her own time helping Vista del Camino with filling food boxes and delivering them to those who need them.

More city employees who exhibit traits embodied in the eight Employee Values also were recognized:

Show Caring and Compassion for Others: Vista del Camino's Human Services Manager Eugenio Munoz-Villafane put the needs of others first when he sacrificed Thanksgiving with his family to deliver food to two families in need.

Listen, Communicate, Take Action: Granite Reef Senior Center's Human Services Specialist Jennifer Murphy takes action and serves as a voice for vulnerable adults who have been taken advantage of and need someone to listen and care.

Be Accountable and Act with Integrity: The Move 2014 Leadership Group demonstrated persistence and perseverance when planning and executing a strategy that involved 23 moves throughout the city – Public Works Planner Space Planning Analyst Michael Durward, Lucas Muller and Public Works Director Linda Zarella

Collaborate as a Team: The Afterschool Program Partnership Team leveraged resources with Scottsdale Unified School District to offer free after school programming at four Title 1 elementary schools and increase program participation. – Recreation Supervisor Scott Anderson and Recreation Leader Zachary Matz

Focus on Quality Customer Service: Vista del Camino's 71 acre park, which includes two lakes, playgrounds, ballfields, volleyball and basketball courts, a disc golf course and an off-leash dog area, remain in tip-top shape thanks to the quality work of the Vista Maintenance Crew – Maintenance Workers Joseph Alvarado, Robert Salin Jr. and Tim Worth

Plan and Innovate for the Future: Scottsdale's Belleview properties are up and running – providing tenants with sustainable, affordable housing due to the efforts of the Habitat for Humanity Team – Community Assistance Manager Michelle Albanese, Housing Coordinator Justin Boyd, Senior Assistant City Attorney Jennifer Pollock and Project Manager Eric Waldo

Learn and Grow Continuously: Senior Assistant City Attorney Lori Davis immersed herself in learning every aspect of civil rights litigation and successfully had various lawsuits against the city dismissed due to her work and diligence.

Respect the Individual: Human Services Manager Hugh McGill champions the causes of the vulnerable, depressed and excluded.

Two additional awards are given:

The People's Choice Award, selected by employees, went to a squad of police employees for buying a 10-year-old boy a new bike, lock and helmet after his BMX bike was stolen from the Civic Center Library. The squad includes Lieutenants Ernie Anderson and Eric Rasmussen; Sergeant Mike Snader; Officers Rich Best, Danny Garcia, Jr., Darrin Hinrichs and Travis Kerby; and Police Aide Deb Shields

Anna Alderman received the Thanks to You Award for her service as an advocate for domestic violence victims. The City Council chooses the recipient of this award.