BY LINDA BENTLEY | DECEMBER 3, 2014
Outsiders push to impose new rules for Cave Creek's trails
Council gets tongue lashing during Call to the Public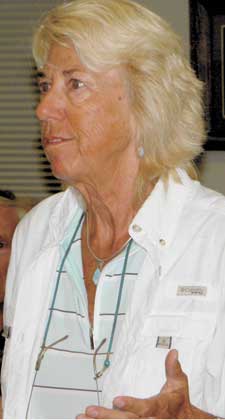 CAVE CREEK – Monday night's council meeting began with Diane Vasily (r) of the Desert Awareness Park Committee taking to the podium for Call to the Public.

Vasily said Girl Scout Troop 1838 came before council in April to ask its permission to do improvements to Gateway Awareness Park, which council granted.

She said the girls worked all summer long and completed their project in September.

Vasily stated no one from council or the town has thanked them or contacted them and said, "I'm ashamed."

She said those six girls were still waiting for their silver award and pleaded with council to go to the park to see what they've done and thank them.

Vice Mayor Adam Trenk said he was never made aware the project had been completed.

Vasily urged council, "Please go, please look, please thank the girls."

Mayor Vincent Francia apologized.

Associate Planner and Trails Coordinator Bambi Muller introduced a resolution for council to consider for trail rules, most of which were already part of the town code with a few additions.

She said the trail system was adopted by citizens in 2005.

Councilman Thomas McGuire asked Muller where the most important proposed connections to the trail system were located.

Muller said the most important connections were those that connect the east and west sides of town, including connections at Morning Star and Surrey roads.

Councilman Charles Spitzer, referring to Exhibit A in their packet, asked how people would know what the town code is regarding dogs and leash laws.

Muller said they wouldn't by looking at the sign, which only referred to the town code.

McGuire said there were so many access points to the trails the signs would have to contain so much information that would not be practical.

He said it was the responsibility of people who use the trails to educate themselves.

During public comment, Johnny Ringo said he promotes the town every day through his business and points out the trail system as one of Cave Creek's unique features.

Ringo also reminded everyone the Christmas Pageant in Spur Cross Conservation Area is this coming weekend and said he hopes everyone goes.

Alisa McMahon, who owns lot 36 jointly with Mike Fiflis, donned a bicycle helmet with a light to demonstrate how annoying the lights are that she said are seen on their "building envelope" when mountain bikers use the trail at night.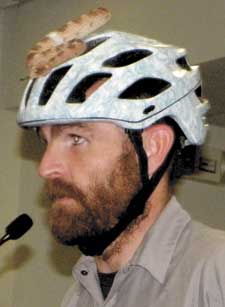 Kaolin Cummens (r), owner of Flat Tire Bike Shop, stated the new rules were unnecessary and he would just like to maintain the status quo, although he said bike etiquette is important too.

Fiflis, who is president of the Canyon Ridge Estates Homeowners Association, encouraged council to adopt the rules his subdivision proposed for use of the 1.7 miles of trails within the subdivision, which included restricting use to during daylight hours only.

Karen Nichols, president of the Cactus Shadows High School Mountain Bike Association, said she respects the rights of property owners but noted the trails were in place before people purchased their lots.

Lorrain Montuori of the Desert Foothills Mountain Bike Association said trail connectivity was very important and opposed closing the trail from sunset to sunrise as well as the proposed leash rules for dogs.

Mayor Vincent Francia pointed out there were two agenda items – the first being the town's proposed trail rules and signage; the second item had to do with the rules proposed by Canyon Ridge Estates.

Muller read the rules, which she stated were already in the ordinances, plus a couple of suggestions such as no smoking.

Ernie Weaver, a 30-year resident, said he had no problem with the rules.

Terry Smith pointed out Cave Creek is a trails community and said the dog leash rules, requiring dogs to be under voice command, is for equestrian safety as it would be neither practical nor safe to ride with a dog on a leash.

Richard Davis, a Canyon Ridge Estates homeowner said he loves the trails and felt the town's rules were reasonable.

However, he asked whose responsibility it was if someone were to get hurt on the trails.

Davis said he was concerned because he has a trail that traverses his property. He suggested the town post something to the effect that people who use the trails are personally responsible.

Councilman Ernie Bunch moved to approve the resolution. However, he stated, "I think we've been going along just fine … I'm not going to support this."

McGuire, who seconded the motion, stated how important the trails are to the town.

Councilman Mike Durkin said, "Looking at the proposed rules, I don't see anything meaningful coming from this."

Spitzer asked how many people in the audience knew what the town's ordinance on dogs entailed. Only a few hands went up.

Spitzer stated, "Virtually everyone doesn't know the town's rules about dogs," and said he thought they needed to be spelled out.

Bunch said he wasn't inclined to impose more rules telling people what they can and can't do.

Vice Mayor Adam Trenk said, "I think this is a solution to a problem that simply doesn't exist. I'm not going to support this."

He then said he would propose something in the next couple of months.

McGuire asked Muller how many complaints she's received about the trails from residents.

Muller said she hadn't had any unless the town marshal received them.

McGuire said he spoke to Town Marshal Adam Stein, who said he wasn't aware of any complaints from residents.

The motion failed by a vote of 3-4, with Spitzer voting yes, McGuire voting yes "only because of smoking," and Francia voting yes "only because of all the work Bambi has done."

Fiflis spoke on behalf of the HOA in presenting their proposed rules for the trails within their subdivision.

When Fiflis indicated they had been complaining to Stein for three years, McGuire clarified he asked about complaints from residents.

Fiflis and McMahon, who own land in Canyon Ridge Estates, reside in Scottsdale.

Fiflis said the impact of trail use is also an impact on every taxpayer in town and said every week there is a race organized by Flat Tire and showed a video of night use of the trail.

Fiflis claimed the video shows a woman handing out beers as riders go by and said some were also drinking Fireball or getting high.

He said, "This needs to be stopped."

Citing liability concerns, Fiflis said the town's insurance policy has an exclusion for races.

"I realize most people are responsible," said Fiflis, adding, "These guys do a lap, slam a beer, stay and party and then ride back to Flat Tire."

Fiflis believed if the rules were adopted, as a property owner he would be able to call the sheriff's office or town marshal.

McMahon said the rules were not an attempt to close the trails and, with reference to helmet lights, said, "The last thing we want to do is diminish safety."

She said the rules weren't being proposed for the entire town, just on their private property and stated they only knew the trails were an equestrian easement.

Muller clarified all the trails in town were multi-use, non-motorized trails.

McMahon said the trails within Canyon Ridge Estates consisted of only 1.7 miles and there were plenty of other trails in town that could be used at night.

She said, "The thought that I should have to shut myself up in my home so others can enjoy my property is ludicrous."

McMahon also said Desert Foothills Land Trust trails are only open during daylight hours and night use was breaking their rules.

Francia said the trails were specified when the subdivision was platted in 1997.

Trenk asked Town Attorney Fredda Bisman if a resolution proposing rules, rather than council passing ordinances were binding.

Bisman said, in general, they should be part of the town code.

She also stated the allowed use of the trails does not authorize use of alcohol and there are state statutes in place that address such concerns.

Councilman Reg Monachino had concerns about the wildcat trails within the subdivision, which Muller explained were not within the dedicated easements.

Cummens spoke during public comment and questioned whether the HOA was proposing rules to just enforce against mountain bikers or if they would apply to hikers and equestrian use as well.

Weaver said the trail has been there as long as he has.

Smith urged council to vote against the resolution and said, "It's bad for Cave Creek."

Brent Demmitt said he uses the trails an average of 148 hours per year and about one-third of the time at night.

He said if he couldn't use that trail at night he wouldn't be able to go where he wants to go.

Demmitt said, "It brings revenue and good vibes to the town."

He said he is unaware of any deaths or serious injuries on the trails in the 10 years he's been here.

Sonia Perillo, executive director of Desert Foothills Land Trust, said the rules on the trust's properties are subject to change and asked council not to make any decisions based on their rules.

Janell Smith-Haff likened the proposed rules to those for a gated community, called the resolution a "slippery slope" that would add divisiveness and asked council to vote no.

Before calling for a vote, Francia said, "Our trail system unites us as a community."

Council voted unanimously against the proposed rules.

Planning Director Ian Cordwell said there were three seats open on the planning commission and Commissioner Ray Fontaine was not seeking another term.

Council voted unanimously in favor of reappointing Dan Baxley and Eileen Wright to the commission and voted 6-1, with McGuire dissenting, to appoint Grace Meeth to the vacant seat.

Council also voted unanimously to reappoint Paul Eelkema, Adam White and Brian Sirower to the board of adjustment.

Monachino requested a roll call vote when it came to the reappointment of Fred Mueller, who was reappointed by a vote of 4-3, with Durkin, Spitzer and Monachino dissenting.

Cordwell said he would re-advertise for the fifth seat on the board.

Council voted 5-1-1, with Bunch dissenting and Francia abstaining, stating, "There is no good vote here," to remove the three parcels totaling 15 acres from the Special Area Plan.

Francia's concern was council granting the right for more intense use as a general plan amendment and then voting to take it away.

Trenk said he didn't believe the property owners had any vested rights, since no rezoning had been granted, and stated the town would probably win in court even if the landowners sued.

Council voted unanimously to approve an expenditure of up to $16,500 to Pump Systems as a sole source provider for new variable frequency control panels for the Ocotillo 2 water booster pump station.

Utilities Manager David Prinzhorn said he wanted to change the units out "to ones my guys are more comfortable with."

He said the new panels would also qualify the town for rebates from APS because they were more energy efficient.