DECEMBER 3, 2014
Community Briefs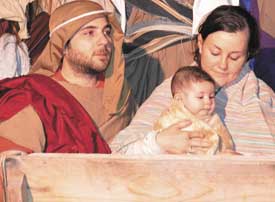 Desert Foothills Christmas Pageant
The Desert Foothills Christmas Pageant takes place on Saturday, December 6, and Sunday, December 7, 2014, at Spur Cross Ranch Conservation Area in Cave Creek. Bring a blanket to sit up close on the ground or a portable chair. Wear warm clothes and walking shoes. A flashlight is useful because the primary lighting for Spur Cross Ranch is starlight. Admission and parking are free.
The North Valley Chorale presents "Tidings of Joy" Friday, Dec. 5
The North Valley Chorale (NVC) presents its annual Holiday Concert this Friday, December 5 at 7 p.m. at Chaparral Christian Church, 6451 E. Shea Blvd. in Scottsdale. The concert will include J.S. Bach's "Magnificat," as well as a selection of favorite holiday songs. Tickets are $20 for adults and $15 for students and seniors, and are still available by visiting the chorale's website at www.northvalleychorale.org or by calling 602-464-4100.
Celebration of Christmas December 4-14 at Phoenix First Assembly


Phoenix First is proud to announce the 36th year of its Christmas show, which will take place at Phoenix First Assembly, 13613 N. Cave Creek Rd. Phoenix, from Dec. 4 - 14. This large-scale musical performance features a live orchestra and choir, professional acrobatic silk artists, an amazing light show, live animals, a beautiful Nativity and more! This is a family-friendly Christmas tradition for many in the Phoenix area. Both free and reserved seating are available at every performance. To learn more, visit www.CelebrationOfChristmas.org or call 602-867-7117.
7th Annual Carefree Christmas Festival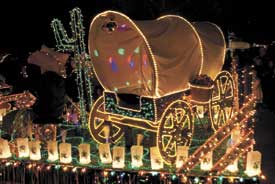 A three-day, two-night celebration with real snow, an electric light parade and a fireworks extravaganza, welcome in the holidays at the 7th annual Carefree Christmas Festival, December 12 – December 14. Festivities take place at the Carefree Desert Gardens, 101 Easy Street, from 10 a.m. – 9 p.m. on Friday and Saturday, and 10 a .m. – 5 p.m. on Sunday. Information and a full schedule of events are available at carefreechristmasfestival.com, or at 480-488-2051.
"Community Sing-A-Long" of Handel's Messiah
ProMusica Arizona Chorale & Orchestra is collaborating with Christ the Lord Lutheran Church to present a "Community Sing-A-Long" of Handel's Messiah Saturday, December 13, 3 p.m. at Christ the Lord Lutheran Church, 9205 E. Cave Creek Rd. Carefree. Adult tickets are $30 and each and can be purchased by calling 480-488-2081 or by visiting www.ctlcarefree.org. Children 3-12 years old are $15, and children 2 and under are free if sitting on an adult's lap.
"Journey to Bethlehem"


Coolwater Christian Church will hold its 2nd Annual "Journey to Bethlehem" on Saturday, December 20 at 5:30 p.m. Coolwater is located at 28181 N. 56th St. in Scottsdale (SE corner of Dynamite & 56th St.). Travel with Mary and Joseph through the desert on a LIVE journey to Bethlehem. Along the way, encounter angels, shepherds and wise men. Also experience the hustle and bustle of a Bethlehem marketplace. There will be crafts, games for children, informative displays about life in Biblical times, and more. All are welcome to attend this community event. Come and experience the true meaning of Christmas!! For info call 480-585-5554 or visit CoolwaterChurch.org
Candlelight Christmas Eve Service
Coolwater Christian Church will hold a candlelight Christmas Eve service on Wednesday, December 24 at 7 p.m. All are welcome to attend this worship service on the holiest night of the year. The story of Christ's birth will be told through scripture and special music. The Coolwater Community Choir will perform at this service and is led by well-known local musicians Kevin Glenn and Martha Lindsey-Glenn. Coolwater Christian Church is located at 28181 N. 56th Street (SE corner of Dynamite and 56th Street). For more information, call Coolwater at 480-585-5554 or check www.CoolwaterChurch.org