BY LINDA BENTLEY | NOVEMBER 26, 2014
Planning commission rejects multifamily for Hidden Canyon project
CAVE CREEK – Planning Director Ian Cordwell told the planning commission there were no cases scheduled for December.

Cordwell introduced the first agenda item, a general plan amendment to change the land use for the Hidden Canyon project from a designation of Desert Rural (DR) to a combination of medium density residential, high density residential and open space.

The applicant, United Engineering Group (UEG), was also requesting a change to the zoning from single-family Residential R-18 and R-35 to MR (Multifamily Residential) and Open Space Recreational.

Cordwell explained the designation was DR in the general plan, although the parcels were zoned R-18 and R-35 prior to the general plan's designation.

Commissioner Eileen Wright asked if there were any other signs posted about the application other than the one sign at Blue Ridge Drive and Ootam Road.

Cordwell said there was not.

Wright said the sign only mentioned the rezoning but not the general plan amendment.

Cordwell stated the information was also mailed to everyone within one-half mile of the project and all the notification criteria had been met.

Commissioner David Smith said he had a problem with the terminology "medium and high density" and asked if those were common land use terms.

Associate Planner Luke Kautzman said they were common land use terms.

Cordwell said the terms are defined in the general plan and stated high density is defined as a maximum of eight units per acre.

Chairman Ted Bryda asked if the MR designation would allow for apartments as well as condominiums.

Cordwell said it would.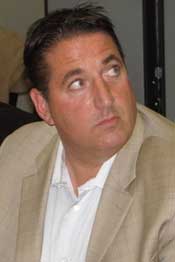 John Cioe (l) of UEG said the property was purchased by their client last year and they only wanted to match the MR zoning immediately to the east.

He said, "It's not our intention to do more than four units per property."

Commissioner Bob Voris told Cioe they were already entitled to 28 lots in Phase I and asked if they were willing to give up the MR designation for two lots and leave it as it is.

Voris said, "It would be a lot cleaner and remove any rational argument against it."

Wright asked if they were planning four units per lot.

Cioe said that was premature, as that would have to come back for a site plan review.

Wright read the vision and goals in the general plan and noted their application stated the high density is necessary.

She asked what the needs were and why they were necessary.

Cioe said they had been working with staff to add some less expensive product.

Wright questioned if they had completed any studies indicating less expensive product was needed.

Cioe stated they didn't currently have a plan but when the downturn occurred the biggest hit was to larger lots.

Wright said she was looking for specific studies.

Cioe conceded none had been done but the area was adjacent to multi-family residential zoning.

Smith questioned how they concluded the impact to future sewer capacities was minimal and said, "I would say it's a 10-11 percent increase. Why do you say it's minimal? You're talking about 179 units."

Cioe stated that would occur when the product gets defined but they hadn't gotten to that level yet.

Commissioner Dan Baxley asked if the plant wasn't operating at a deficit right now and if an increase in residential effluent wouldn't be beneficial.

Bryda said it would.

Baxley questioned their willingness to modify their application for the lots in the northern part of the plan from requesting MR to leaving them as single-family.

Although Cioe said that was a concession he could make on the owner's behalf, he claimed there would be more disturbances to the land under the current zoning.

He told the commission they had also included a 50-foot buffer zone in the plan.

However, Voris stated there was no guarantee, it was not cast in stone and not memorialized anywhere.

Baxley said, "We have to protect the future," and stated MR was a real problem for the neighbors.

Cioe stated they were willing to leave the lots in the north part of the plan as is "if that's what it takes to get approval."

Baxley asked what they contemplated building on the MR lots.

Cioe said they were contemplating building something similar to the Village at Surrey Hills although the hillside may only allow for triplexes instead of four units.

Baxley asked Cordwell what maximum density was achievable on those lots.

Cordwell responded, "Probably duplexes and triplexes."

Bryda asked who would become the owner of the open space and if it would be open to all citizens in the community.

Cordwell said it could be deeded to the town, donated to the Desert Foothills Land Trust or deed restricted and, yes, it would be open to the community.

Vice Chair Rae Iverson stated she was still stuck on the high density and said, "That's not what Cave Creek is all about."

She said she was concerned about traffic, water flow and asked Cioe if they had done any inquiries as to how the Village at Surrey Hills was doing and if it was sold out.

Cioe indicated it was not but said there "seems to be more demand for this kind of product."

Iverson asked where he did his study.

Cioe responded, "The MLS."

Iverson asked Cordwell, if the application passed, if the town could hold them to developing no more than duplexes.

Cordwell said it could by entering into a development agreement.

Although they were only at the point of asking questions, Voris detailed his views as to why he believed the application met the requirements of a general plan amendment and said, "I see compatibility with the general plan."

Over 20 citizens spoke during public comment, all in opposition to the general plan amendment.

James Jacobs said they should focus on what's truly important and he didn't mind the homes.

However, he noted citizens taxed themselves to preserve Spur Cross and said this area is just as beautiful.

"The owners have one motive in mind, to turn this into a multifamily mecca" said Jacobs.

He said MR in DR is "simply an outrage" and asked the commission to deny the request and understand the severity.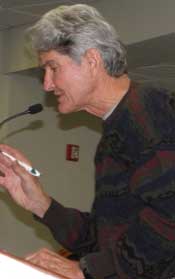 Stephen Sample (r) said he's noticed the encroachment of multifamily residential and increased traffic.

He said he would hate to see further encroachment and likes the way the land is currently zoned.

Dr. Ed Samples said this would have a negative impact on current housing.

Bruce McNeil said the Village at Surrey Hills was a tasteful project with a development agreement but when the developer went bankrupt, so did the development agreement.

He said if we keep putting in high density housing we are increasing the supply and reducing prices.

Robert Peterson said there are drainage concerns in the area and flooding and runoff damaged their home in 2009. He said the town did some repairs but flooding continues to be a problem.

Debbie Peterson said traffic, erosion and flooding were issues. Stating it was a beautiful property, Peterson said, "We'll be here long after the developer is gone.

She said the builder bought land and knew what the zoning was when he bought it.

"If Cave Creek needs multifamily housing, this is not the property for it," said Peterson, urging the commission to not allow a developer to exploit the town.

Shannon Shaneyfelt said no studies have been done and asked how much of the land is unbuildable while questioning how binding the concessions were.

Anna Marsolo read a statement from Robin Ray into the record in support of the current zoning and in opposition to the amendment.

Marsolo told the commission she was at the hearing for Village at Surrey Hills and said it was for 28 units. She praised the project Joel Broeder was building before he went bankrupt and said new owners came before council and added 79 units.

Marsolo said she supports the current zoning and 100 percent of all the comments citizens made before her.

Several more people spoke in opposition to MR zoning.

Stating he was completely against the amendment, Ron Iverson said developers come here for one reason – to buy land, rezone and make money.

During his rebuttal, Cioe said, "Cave Creek has 5,000 residents. Only 2 percent are here."

Cioe claimed it was a responsible plan but they were willing to look at further restrictions, stating there is no such thing as perfect zoning.

He said without the proposed designation of open space they would scar the hillside.

Cioe reiterated there was only a small minority of the town present.

After a short break, Baxley moved to recommend approval just to get it on the table. Wright seconded the motion.

During discussion, Iverson, addressing Cioe, stated, "You said only 2 percent are here. If you look up here, you'll see the other 98 percent.

She said, "It is imperative we do everything we can to preserve the unique nature of Cave Creek. I cannot allow the rest of my neighbors who are not here to suffer high density."

With Ray Fontaine absent, the commission voted unanimously to recommend denial of the general plan amendment.

Because the general plan amendment failed to receive a recommendation for approval, Cordwell said they would not hear the rezoning application, which was contingent on the general plan amendment passing.

The commission also voted unanimously to recommend amending the Special Area Plan by removing three parcels totaling approximately 15 acres that neighbors found objectionable after discovering the parcels were added back into the plan by council without their knowledge.