NOVEMBER 26, 2014
Boots, Bling & Beautiful Things Luncheon and Tea
When: January 29, 2015 - 11:30 a.m. to 2:30 p.m.
Where: Fairway House at Grayhawk Golf Club; 8620 Thompson Peak Parkway; Scottsdale
Cost: $50 per person payable in advance of event
Reservations: Contact Mary James at 480 488-1840 by January 24 deadline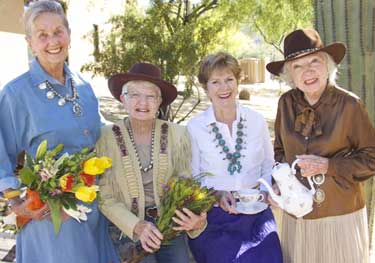 Carefree P.E.O. (Philanthropic Educational Organization) chapter FG will be hosting "Boots, Bling & Beautiful Things", a luncheon and tea where guests will meet five talented artists and view their works.

Members of Chapter FG invite all to join them from 11:30 a.m. to 2:30 p.m. on Thursday, January 29, 2015 at Fairway House at Grayhawk Golf Club; 8620 E. Thompson Peak Parkway in Scottsdale.

Event Chair Mary James said "This will be our fourth year of offering a unique event where the fine artists showcase their work as guests mingle amongst them. The venue lends itself perfectly and is set against the stunning backdrop of Pinnacle Peak in the distance. Luncheon and tea are sure to celebrate this year's theme of 'Boots, Bling & Beautiful Things'. Please join us as we support our educational projects."