NOVEMBER 19, 2014
Desert Foothills Christmas Pageant
7 p.m. Saturday, Dec. 6 and Sunday, Dec. 7
Spur Cross Ranch Conservation Area, Cave Creek
Sponsored by Kiwanis Club of Carefree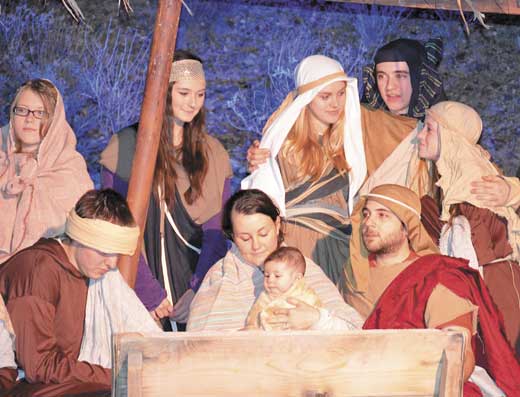 CAVE CREEK – Kiwanis Club of Carefree hosts the annual Desert Foothills Christmas Pageant, delighting hundreds of spectators from Cave Creek, Carefree and drawing visitors from throughout the metro Phoenix/Scottsdale area.

The Desert Foothills Christmas Pageant takes place on Saturday, December 6, and Sunday, December 7, 2014, at Spur Cross Ranch Conservation Area in Cave Creek. Five miles of beautiful luminaria lead to the Pageant site. Members of the Desert Foothills Kiwanis Key Club place and the light the luminaria each night.

This traditional community event was started by the Cave Creek 4-H Club in 1952 as a re-enactment of the Christmas story showcasing the 4-H Club members' animals.

Local residents perform in the choir and make up the cast. Volunteers handle all aspects of the Pageant, from ground prep, sound tech and sets, to luminaria placement and critter coordination. "We Kiwanians are very proud to host this pageant, which is truly a classic. You may know the story, but you haven't experienced it like this. Come, reflect and enjoy. It's a joy for people of all ages," said Bob Swan, Kiwanis Club of Carefree president. "No one should miss it."

"There wouldn't be a Pageant without the volunteer crews who set everything up and help run the event," said Kiwanis Club of Carefree member Toby Payne, longtime organizer of the Desert Foothills Christmas. "We need as many people as possible to participate and keep this 62 year tradition alive."

Majestic-voiced narrator Robert Hutson presides over the Christmas story with beautiful musical accompaniment provided by the Pageant choir conducted by Steve Norris. Cactus Shadows Shadowbox Players directed by Andrew Cupo enact the roles of Mary, Joseph, Angel, Townspeople and Shepherds. The Three Kings make their dramatic entrance on horseback.
Because there is no built-in seating, bring a blanket to sit up close on the ground or a portable chair. Wear warm clothes and walking shoes. A flashlight is useful because the primary lighting for Spur Cross Ranch is starlight. Admission and parking are free. Anyone interested in volunteering or requiring additional information should contact Toby Payne at 480-544-2290. For information on Kiwanis Club of Carefree please call 480-488-8400 or visit www.kiwaniscarefree.org.

Spur Cross Ranch Conservation Area (44000 N Spur Cross Rd, Cave Creek, AZ 85331) is located approximately 35 miles north of central Phoenix. Interstate 17, State Route 51, and Loop 101 can all be used to reach the park. From the intersection of Carefree Highway and Cave Creek Road head north on Cave Creek Road about 2.5 miles to Spur Cross Road. Turn north for approximately 4.5 miles to the public parking area. After 3 miles the road turns to all-weather graded.

For more information, visit www.desertfoothillschristmaspageant.com.