NOVEMBER 19, 2014
7th Annual Carefree Christmas Festival – A weekend long holiday celebration in downtown Carefree
"The festival has become one of the most well-attended holiday events in the Valley," said event director and founder, Jo Gemmill of Carefree
CAREFREE – A three-day, two-night celebration with real snow, an electric light parade and a fireworks extravaganza, welcome in the holidays at the 7th annual Carefree Christmas Festival, December 12 – December 14.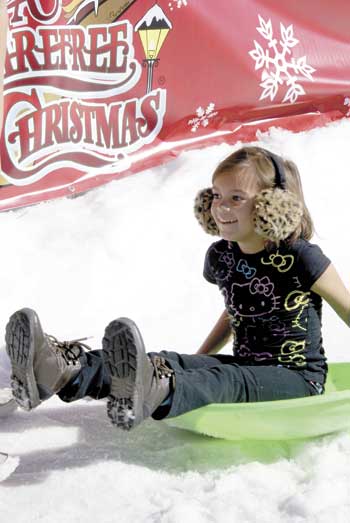 The tiny town of Carefree, located just north of the Scottsdale and most famously known for its over-sized Sundial, turns into an illuminated winter wonderland for the yuletide event.

Festivities take place at the Carefree Desert Gardens, 101 Easy Street, from 10 a.m. – 9 p.m. on Friday and Saturday, and 10 a .m. – 5 p.m. on Sunday.

The signature Electric Light Parade, presented by APS and produced by the Carefree Cave Creek Chamber of Commerce, takes place on Saturday at 6 p.m., along Easy St., and is followed by a fireworks display. ABC15 weekend meteorologist and Valley native, Iris Hermosillo, will return as emcee of the parade. This will be Hermosillo's third appearance at the growing event.

More than 20,000 visitors are expected to attend throughout the weekend. All activities are free.

The annual event has quickly become a holiday tradition in the northeast Valley. Highlights include a lighted holiday village with daytime and late night shopping, seasonal food and drink, live holiday dance and singing performances including the Salvation Army Marching Band, a Kid's Zone with 35 tons of real snow, lighted carriage rides, real snow and ice princesses, Charles Dickens inspired carolers, a live Nativity display, and Santa.

Pet lovers are invited to bring their pets, dressed in their holiday best, for a pet parade and pictures with Santa on Sunday. Pet adoptions by the Foothills Animal Rescue (FAR) will take place throughout the day.

"The festival has become one of the most well-attended holiday events in the Valley because it brings out the child in all who attend. It is reminiscent of a traditional Christmastime of years past," said Jo Gemmill of Carefree. Gemmill is the director and founder of the event.

The four-acre Carefree Desert Gardens provide a stunning backdrop, with thousands of cacti, many rare or unusual specimens, illuminated in holiday lights for the festival.

According to Gemmill, the festival relies heavily on generous corporate and small business sponsorships to fund the event.

Information and a full schedule of events are available at carefreechristmasfestival.com, or at 480-488-2051.