BY LINDA BENTLEY | NOVEMBER 19, 2014
APS awards town $15,274 for participation in Peak Solutions Program
Planning Commissioner Rae Iverson said reducing the commission from seven to five would invite 'cliquish concentrations'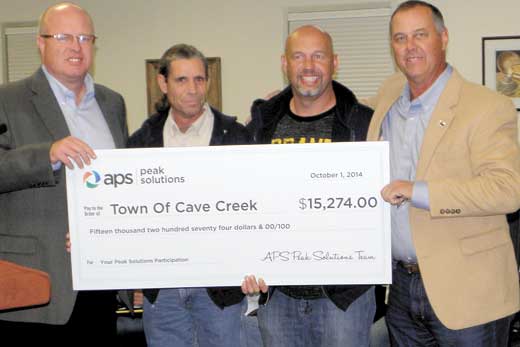 Matt Pool (l) from APS presented the town a check in the amount of $15,274 for its participation in its Peak solutions Program. Standing to Pool's left are utility employees Jeff Lennon, Dennis Charles and Utilities Manager David Prinzhorn, who accepted the check on behalf of the town during Monday night's council meeting. Photo by Linda Bentley


CAVE CREEK – During Call to the Public, Utilities Manager David Prinzhorn explained the town's participation in the APS Peak Solutions Program and the town's employees working with APS to reduce energy consumption by turning off pumps and other equipment during peak hours without affecting service to customers.

Prinzhorn said the town did 16 percent better than expected in reducing electrical consumption, which resulted in Matt Pool from APS presenting the town with a check in the amount of $15,274.

Ron Iverson spoke during Call to the Public to ask Councilman Ernie Bunch what his motives were for placing the second item on the agenda.

Iverson said he was asking during Call to the Public rather than during the agenda item, a proposal to reduce the planning commission from seven members to five, because public comment is already over by the time council discusses the item and it is too late to respond.

Council moved on to the first item on the agenda, the second reading of an ordinance to rezone four parcels at the northwest corner of Cave Creek and Olesen roads from Desert Rural to General Commercial.

With neither questions from council nor public comment, Bunch moved to approve the second reading.

During discussion, Councilman Charles Spitzer stated what was presented at the last meeting by the applicant is not what was presented a long time ago and seems as though the developer just wants to maximize the use of the property.

Councilman Mike Durkin said he was not in favor of the proposal the first time around and he wasn't going to support it.

Durkin said the zoning doesn't ensure any protections, such as setbacks, for the residents in the area, and stated, "You can't solve the town's problems on the backs of a small number of residents."

Councilman Reg Monachino stated, "This is a zoning issue," and that was the only thing they were considering.

He said the site plan would be coming back to the planning commission and council.

Durkin stated he was suggesting Commercial Buffer would be more appropriate and said, "Now is the time to decide and consider setback requirements and protections for residents. Now is the time we make sure we look to the future."

Monachino said he didn't see a significant difference between General Commercial and Commercial Buffer.

Planning Director Ian Cordwell said the difference has more to do with the uses allowed rather than setbacks.

Mayor Vincent Francia said he agreed with Monachino that the item before them was zoning and that setbacks, architectural guidelines and other specifics will come later and were not before council.

Durkin reiterated he believed in rezoning to a different category because it has to do with future impact on residents.

Cordwell produced a copy of the commercial zoning ordinance dealing with setbacks and said the setback requirements are the same for all three commercial zoning categories.

Bunch asked Town Attorney Fredda Bisman if this was a conditional rezoning or a straight rezoning.

Bisman replied it was a straight rezoning.

With Vice Mayor Adam Trenk absent, council voted 4-2, with Durkin and Spitzer dissenting, to approve the second reading.

Francia allowed Bunch a little leeway, without expressing support or opposition, in explaining why he asked to have the second item placed on the agenda.

Bunch said the only way to bring this up without violating the open meeting law to even see how people felt about it was to place it on the agenda.

He went on to say several years ago there were five people in the planning department and now there were only three and a half.

Bunch thought it might be beneficial to staff in getting their work done if five people instead of seven came to them with questions.

He said he brought it forward now since three seats on the commission expire Dec. 31.

During public comment, Planning Commission Chair Ted Bryda said when he saw the item on the agenda he was taken aback.

Although state statute requires the planning commission to have a minimum of five members, Bryda said Cave Creek has had seven members for over 25 years and felt seven members best represent the interests of the town.

He urged council to turn the proposal down.

Cheryl Carmitchel said she disagreed with reducing the commission to five and stated, "I feel we're well represented."

She said she did a little research and learned Carefree, Camp Verde and Wickenburg all have seven members.

Carmitchel said if too many people are going to staff with questions, they should address that problem by perhaps having one spokesperson going to staff with questions.

Planning Commissioner Rae Iverson said reducing the commission from seven to five would invite "cliquish concentrations" and asked council to vote no.

Ron Iverson said reducing the quorum to three diminishes representation, adding, "If this has merit, I would ask council to impose this on themselves," and urged council to vote no.

Bill Allen said he served on the planning commission for 11 years and spent a minimum of 20 hours prior to each meeting going over every detail.

Allen said he appreciated the responses he received from the other commissioners.

However, he said if people miss meetings, whether it's on the planning commission or an advisory committee, without a legitimate reason, making it difficult to assemble a quorum, they should be released for not doing their job.

Allen said, "I think it would be a mistake and hope council would vote no."

Sara Vannucci said she has only missed attending one planning commission meeting since the last election and said it was "very uplifting to listen to this commission."

She said the seven commissioners provide a "wonderful balance."

Planning Commissioner David Smith said the purpose of the commission was to vet proposals and projects so council has the best information to make decisions.

Smith stated, "Councilman Bunch says there are too many questions," and said he believes questions are good and deserve answers as he strongly suggested council vote against the proposal.

Art Robertson said he represented San Diego for 30 years on a commission consisting of 11 board members.

He said with more people on the commission the fewer the complaints.

Bunch moved to approve the item to start dialogue and said he just wondered what everyone thought.

Durkin, who seconded the motion, said the diversity of opinions in Cave Creek warranted seven members.

Monachino said he might be a little biased after sitting on the commission for a number of years but though the "broad views of seven citizens is very valuable."

Spitzer said Cave Creek has grown over the last few years and reducing the number of commissioners would "disenfranchise so many citizens in this town."

Bunch reiterated that placing the item on the agenda was the only way to get the subject out without breaking the open meeting law and said he agreed with Allen, whereas, "if you can't show up you shouldn't be on the thing."

Bunch said he wouldn't be supporting his own motion.

Durkin suggested bringing the item back to address absenteeism.

Francia said, "If I were a betting man, I could bet which way this vote will go," but stated the town has a mayor that is willing to place anything on the agenda.

He said the purpose of these commissions and committees is to get as many people as possible involved in government.

The downside, said Francia, is it can be heavily weighted by people from the same parts of town.

Council voted unanimously against reducing the number of commissioners.

Francia urged citizens to attend the next council meeting, which he said would include the town's trails plan.