BY LINDA BENTLEY | NOVEMBER 19, 2014
Are these merely coincidences in Obama ID fraud cover up?
Taitz called it 'the most egregious case of treason and criminal complicity in U.S. history' and implored Comey to investigate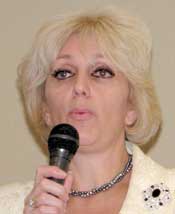 WASHINGTON – After filing a complaint with the FBI relating to Social Security Administration Acting Commissioner Carolyn Colvin's complicity in the cover up of President Obama's fraudulent use of a Social Security number (042-68-4425) issued in Connecticut to another person born in 1890, Dr. Orly Taitz, Esq. (r) said Senate confirmation of Colvin to the post of commissioner was not only stalled for five months but no confirmation hearing has been scheduled.

Taitz, who has been suing various federal agencies to obtain public records that would prove Obama has committed identity fraud and fraud with respect to his Selective Service registration, noted two high ranking officials, whom she says are involved in the cover up, Attorney General Eric Holder and Postmaster General Patrick Donahoe, have resigned.

Donahoe's resignation, which becomes effective Feb. 1, was reportedly connected to protests over proposed cuts that could eliminate approximately 15,000 postal worker jobs. The beleaguered federal agency posted losses of more than $5 billion.

Upon the announcement of his retirement, American Postal Workers Union President Mark Dimondstein issued a statement that welcomed Donohoe's retirement and said he hoped the next postmaster general will reverse Donohoe's policies that included "lowering standards, reducing hours, outsourcing work and diminishing a great American institution."

Taitz doesn't believe in coincidences and said it appears Colvin chose not to proceed with the confirmation hearing, which would require Colvin to face an investigation and questions about her complicity in the cover up of Obama's use of fraudulent IDs.

In a letter dated Nov. 17, 2014 to FBI Director James Comey, Taitz points out she submitted a sworn affidavit from Stephan Jeffrey Coffman, former Chief Investigator of the Special Investigations Unit of the U.S. Coast Guard, to Donahoe and USPS Inspector General David Williams in 2012, revealing Barack Obama's Selective Service registration is a flagrant forgery that contained a fabricated USPS date stamp.

Taitz wrote, "During this time, as Mr. Obama is about to rob millions of law abiding Americans of their jobs, it is inconceivable that the FBI will continue this cover up of Mr. Obama's lack of legitimacy to the U.S. presidency, his Indonesian citizenship and allegiance and his use of a stolen Social Security number and all fabricated IDs."

Stating American citizens are entitled to know whether Comey did anything since her complaint was submitted to him on July 6, 2014, Taitz questioned whether a criminal complaint was ever submitted to Holder.

And, if Holder refused to file a complaint with the court, Taitz wrote, "American citizens are entitled to know it and are entitled to impeach and remove AG Holder from office even before a replacement is confirmed. For this reason, I am also requesting under 5USC 552 any and all documents responsive and relating to my complaint filed on July 6, 2014 and any and all action taken by you or subordinates in relation to my complaint."

Taitz called it "the most egregious case of treason and criminal complicity in U.S. history" and implored Comey to investigate and advise the public whether Holder, Colvin, Donohoe and other high-ranking officials and judges are committing treason by their complicity in the cover up of Obama's use of a stolen SSN and fabricated IDs.