NOVEMBER 19, 2014
12th Annual Cave Creek Luminaria Run is set for Saturday, Dec. 6
Volunteers needed to fold luminaria bags prior to Dec. 1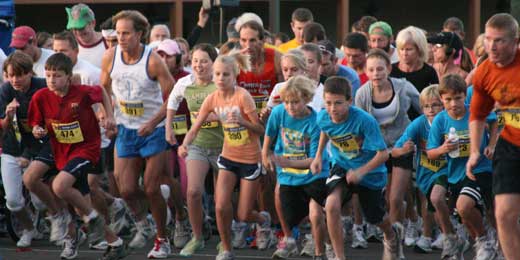 CAVE CREEK – As the sun sets on the evening of Sat., Dec. 6, hundreds of runners, joggers, walkers, families and friends will gather to participate in the 12th Annual Cave Creek Luminaria Run amidst the beautiful desert mountains and hills of the Cave Creek Regional Park. The event features a timed 5K Run, an untimed one-mile Fun Run/Walk and Kids' Desert Dashes ranging between 50 and 100 meters.

The first race begins at 4:45 p.m. and participants and onlookers are encouraged to come early for the best parking at Cave Creek Memorial Rodeo Arena, 37201 N. 28th St., in Cave Creek. Registration fees range from $17 to $30. Proceeds benefit Desert Foothills Theater, a program of the Foothills Community Foundation.

The course location is uphill out and downhill back featuring stunning desert views and gorgeous city lights. Lit luminarias will line both sides of the road as participants run and walk the course.

Volunteers Needed Prior to Dec. 1
Luminaria race director and founder Meribeth Reeves said the event is still in need of sponsors and volunteers, including people to serve on the luminaria crews. Volunteer luminaria bag folders are needed to help fold 1,000 bags prior to Mon., Dec. 1. Volunteers can pick up packages of 50 bags at the FCF Holland Community Center and receive instructions for bag folding.

In addition, luminaria crews of four people are needed along with a pickup truck for each crew to place the lit luminarias along a 1/2-mile section of the course. Volunteers are also needed to help with sign-up and other tasks.

Participants can register online, via mail or in-person from 9:30 a.m. to 4 p.m. Tuesday through Friday at the FCF-Holland Community Center, 34250 N. 60th St., Building B, in Scottsdale through Dec. 4. Register by Nov. 30 and save $7 off race-day registration.

Mandatory packet pickup is Fri., Dec. 5 from 2 p.m. to 7 p.m. at Roadrunner Sports, at Scottsdale Road and Mayo Boulevard (south of the 101, next to Whole Foods). For more details, visit www.luminariarun.org or call 480-488-1981.