NOVEMBER 19, 2014
3rd Annual Carefree Fine Art of the Southwest Festival

CAREFREE/CAVE CREEK/N. SCOTTSDALE – You don't want to miss the 3rd Annual Carefree Fine Art of the Southwest Festival, at the Carefree Desert Gardens in downtown Carefree, Friday, November 28 – Sunday, November 30, at the Carefree Desert Gardens, 101 Easy St., in downtown Carefree, Arizona.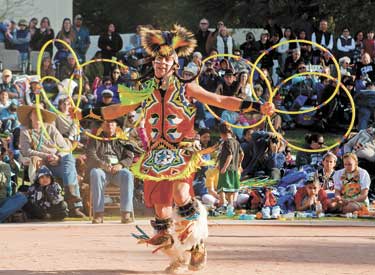 The festival features more than 100 fine arts exhibits, plus live music and dance performances throughout the event, including nationally-renowned Native American Hoop Dancer Brian Hammill (r). The festival is open from 10 a.m. – 5 p.m. daily. Admission is free.

A lush botanical garden, breathtaking mountain backdrop and exotic flora and fauna intimately surround artist exhibits at the event.

Featured artists include fine jeweler Paz Ehecatl, Navajo stone sculptor Larry Yazzie, and mixed media artist Philonese.

Dance and music performers include world-champion Native American hoop dancer Brian Hammill, and entertainers Dakota Kid, Johnny Martini, The New Deal Trio, and the Desert Cactus Kickers.

The food court at the event includes a variety of regional favorites, as well as food truck fare. Adult beverages are available at a variety of restaurants that border the venue.

For information, call 480-488-2014 or visit magicbirdfestivals.com.