NOVEMBER 19, 2014
Community Briefs
Tea Party Scottsdale Meeting Nov. 20
Two separate methods to amend the U S Constitution to require a balanced budget will be presented by this month's speakers. Nick Dranius, of counsel to The Goldwater Institute and Dustin Romney from The Convention of States will discuss the use of Article V to fix the national debt. Thursday, November 20 at Chaparral Suites, 5001 N. Scottsdale Rd, Scottsdale from 6:30 – 8:30 p.m. All are welcome. No charge although a donation to help defray costs is appreciated. Call 480-946-8069, email patriots@teapartyscottsdale.com or visit teapartyscottsdale.com.
"Trains in the Garden" Annual Christmas Open House Tours 2014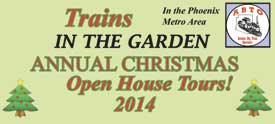 Arizona Big Train Operators is a 501C non-profit organization and once again will be holding their "Trains in the Garden" Open House Tours during two weekends in December that feature sixteen private homes with G-Scale garden railroads in their backyards, plus the Cardon Children's Medical Center in Mesa. The homes are located in the Phoenix area, including Mesa, Glendale, Sun Lakes, Chandler, and San Tan Valley.

Most of these displays will be open December 13, 14, and then again December 20 and 21 from 5:30 – 8:30 p.m. Please check www.azbigtrains.org for the locations, directions and any special running times of the open house displays.

Tax deductible donations are accepted and used to benefit the promotion of Garden Railroading through shows and open houses as well as maintaining the indoor garden railroad at the Cardon Children's Medical Center in Mesa.
Events to Benefit Foothills Food Bank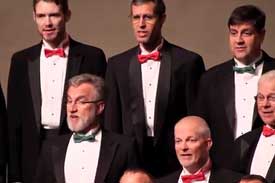 Orpheus Male Chorus of Phoenix
Desert Foothills Lutheran Church and Preschool is pleased to announce the Orpheus Male Chorus of Phoenix in a concert to benefit the Foothills Food Bank. This year's event will be held on Saturday, December 13 at 4 p.m. on the DFLC Campus which is located at 29305 North Scottsdale Rd. Tickets for this year's event are on sale now for $20 per person. Tickets can be purchased at the church office between 9 a.m. – 4 p.m. Mon.-Fri., online at DFLCConcerts.org, or at DFLC on the day of the event beginning at 3 PM. There will be a reception directly following the concert. For more information please call 480-585-8007 or visit DFLCconcerts.org

Jingle Bell Jam 2014
Black Mountain Fitness & Bodhi Coyote Yoga proudly sponsor the 2014 Jingle Bell Jam – 3 hour Fitness Marathon, on Saturday, December 13, 8:30 – 11:30 a.m., 6450 E. Cave Creek Rd, #200 in Cave Creek. Come bring your energy to 3 hours of jamming to great music, pumping weights, shaking your booty, cardio blast, and relaxing with yoga … all to benefit the Foothills Food Bank and the Joybus. There is a minimum of $35 to participate. You can do some of it or all of it, it's up to YOU!! When it's done, you will receive a souvenir T-shirt for your participation! Stay after for our raffle drawings and refreshments.

Our Recipient is the Foothills Food Bank and Resource Center (provides an emergency supply of food, referral information and financial assistance to individuals and families in the foothills area that are in a crisis situation).
Kiwanis Concert Series presents Beachfront Property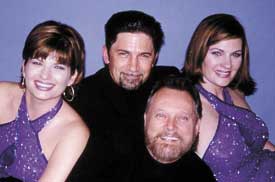 Although it's not prime real estate along the ocean, Beachfront Property is one hot property, performing everything from the American Songbook of Jazz Classics to the #1 hits of Rock n' Roll. Described as "Manhattan Transfer meets Take 6," the group's smooth singing style combines the rich sounds of jazz with the fun and energy of pop music. Beachfront Property has shared the stage with Mel Torme, The Four Freshman, The Hi-Los, Kenny Rankin, Crystal Lewis, The Brothers Four, and Emerson, Lake & Palmer. January 10, 2015 at 6 p.m. Sanderson Lincoln Pavilion, Carefree Town Center Gardens, 101 Easy Street, Carefree 85377. Tickets: $30. For information or to purchase tickets call (480) 488-7169 or visit www.kiwaniscarefree.org. Tickets may also be purchased at The Kiwanis Marketplace, 6535 E. Cave Creek Road.
7th Annual Gala in support of the DFL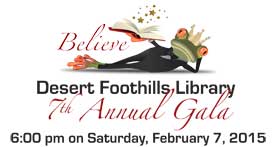 Please mark your 2015 calendars with the date of the 7th Annual Gala in support of the Desert Foothills Library. This is your chance to "Believe" in the Library where you can Discover, Connect and Belong. We have sponsorship opportunities. Why not volunteer to help with this marquee event? We need donations for the silent and live auctions. Donations are tax deductible. For more information please contact Library Executive Director, David Court, 480-488-2286 or dcourt@dfla.org. We thank you for you generous support of the Library. The Desert Foothills Library is located at 38443 N Schoolhouse Road, Cave Creek, AZ, 85331. The Desert Foothills Library is a 501 (c) 3 non-profit organization.