BY MARIELLE D. MARNE | NOVEMBER 19, 2014
E'Clips Salon, for fabulous hair, magical massage and unique boutique buys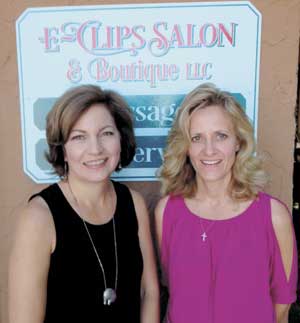 CAREFREE – If you want a salon experience to eclipse all others, then make an appointment at E'Clips, cleverly named after Erica Meshinsky, the "E" who CLIPS your hair! Meshinsky has been in the community for more than a decade and she's been in the hairstyling industry for 30 years, but E'Clips is a new venture for her, having opened in the Mariachi Plaza in July.
As one who wants to see her clients' hair in optimal health, Meshinsky uses Goldwell hair color and products. "It's superior hair color that is conditioning and gentle, and holds color," she explained.

In addition to her products, clients appreciate that Erica takes the time to listen to what they want, as well as providing guidance as to what will look most attractive with face shapes and skin tone.

"She really does build relationships with her customers," Rachael Handley, the massage therapist at E'Clips, chimed in.

What could be more pampering than a new 'do and a relaxing massage? E'Clips can be your one-stop-shop for both. (Meshinsky is seeking to expand, so if you're a nail tech or hairstylist, give her a call to see if you'd be a good fit.)

Handley has 17 years in the business and gives a variety of massages – Swedish, deep tissue, therapeutic are a few of the more well-known. She believes massage is a way to stay healthy, not merely a luxury for birthdays or anniversaries. Her business, called Foundations, is built on the concept that massage is the ideal foundation for a fit lifestyle. For a limited time, she is offering introductory one-hour massages for $25! See for yourself how massage can benefit you by calling Handley directly at 480-818-3584.

E'Clips is located at 7171 E. Cave Creek Rd. and not only offers hairstyling and massage but is also a boutique with lots of cute gift ideas, jewelry, accessories (purses, watches), even dog collars! Currently, Meshinsky is discounting items at 25 percent off, so stop in for the best selection. While walk-ins can often be accommodated, an appointment (Tues-Sat) can be set to transform your tresses at 602-471-0227.