NOVEMBER 12, 2014
Horse, burro, in search of a new forever home
CAVE CREEK – Triple R Horse Rescue, the only horse rescue in Cave Creek, Ariz., focuses on, and fund-raises for, the rescue, rehabilitation and re-homing of horses and burros in need. Now the public can adopt two loving animals that are available at the rescue's Lit Bit Ranch.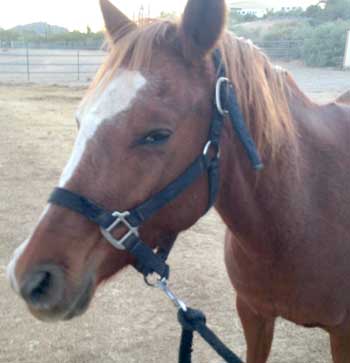 Azruh (r): This sweet eight-year-old mare is chestnut a Sorrel Arabian/Haflinger who is 14 hands tall. She wants to come home with you!

Mama (below): This darling gray mare is 11 years old and ready to be part of a family. Both of these great animals can be found at Triple R Horse Rescue, which is located at 6206 East Rockaway Hills Drive in Cave Creek, Ariz.





Triple R Horse Rescue is a 501(c)3 organization that rescues, rehabilitates and re-homes horses surrendered to its care. The organization, which is run 100% by volunteers, relies on support from the community to fulfill its mission. Located on three acres donated by Lil Bit North Ranch in Cave Creek, Ariz. Triple R Horse Rescue is dedicated to assisting the 175,000 unwanted horses in the United States. In the past three years, the organization has re-homed more than 100 horses.

For more information about Triple R Horse Rescue visit www.triplerhorserescueaz.com.