NOVEMBER 12, 2014
J. Julian Fine Skin Care expands natural product lines, cutting-edge spa treatments
CAVE CREEK – Take a holiday away from the holidays and treat your body and skin to a rejuvenating spa treatment at J. Julian Fine Skin Care, 6450 E. Cave Creek Road, Cave Creek, Arizona.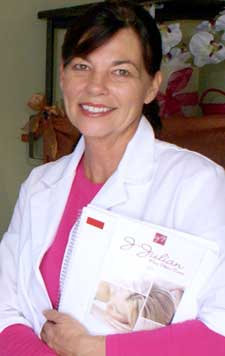 J. Julian skin care services include eco-friendly face and body treatments, skin consultations, hair removal, make-up applications, as well as a retail line of essential oils, supplements, and cosmetic products.

J. Julian is by appointment only; for information and bookings please call 480-595-1281.

A European-trained esthetician, Joann Julian offers personalized solutions and tailored treatments for her clients. Dedicated to using only premier products tested at the highest standards, Julian's facial treatments and packages are at the cutting-edge of cosmetology.

This holiday season, the spa debuts an expanded selection of all natural, ecologically credible products from the United Kingdom, Europe, and South Pacific.

Delivering innovative, anti-aging solutions, the Nelly Devuyst skin care line follows a "best of science and nature" approach. The company's nutrient rich, active ingredients help initiate molecular healing and internal and external synergy.

J. Julian is a certified provider of the full line of Nelly Devuyst skin care products, which are featured in the spa's premier dermatological treatments.

Pure Fiji, J.Julian's latest product line, utilizes traditional blends of living ingredients to effectively transform and rejuvenate skin. From hydrating natural oils to buttery lotions and nourishing sugar scrubs, these tropical infusions deliver revolutionary results.

J. Julian's philosophy of purity and integrity offers clients an intimate and personal atmosphere where they can discover alternative paths to health. All clients receive a free consultation with their first appointment.

J. Julian Fine Skin Care is open Tuesday-Friday 9 a.m. to 5 p.m., and Saturday 9 a.m. to 3 p.m. Monday by appointment only. For appointments phone 480-595-1281.