BY LINDA BENTLEY | NOVEMBER 5, 2014
Not-so-Wild West Days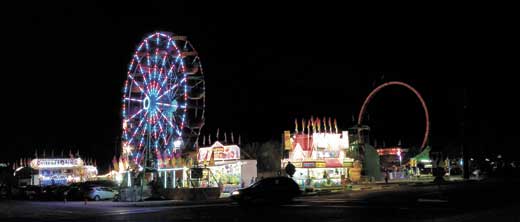 The carnival in the center of town at the old Cave Creek Elementary School site didn't appear to attract very many partakers. Photo by Linda Bentley



CAVE CREEK – It's not clear what went wrong this year but Wild West Days didn't seem to have as many events, draw anywhere near as many participants or bring in the big crowds as it has in years gone by.

Last year's parade had over 90 entries. This year there were just over 30.

Even though this year's event was expanded to five days, there didn't appear to be enough activities to fill in the time and even seemed as though there were fewer things going on than during previous years.

Several business owners in town said it was pretty much just business as usual but nothing special.

On Sunday, local builder and artist Frank Imel said he believes it may have to do with the town approving so many special events throughout the year they're no longer special or a reason for people to come to Cave Creek for any particular event.

And, for all the people who have asked how the carnival in the center of town was able to get a permit without council approval, the ordinances were amended a few years back granting the planning department authority to approve such special events, providing they met certain conditions.

According to Planning Director Ian Cordwell, the applicant met all the requirements for approval.

The same applicant has also met all the conditions for approval for the weekly farmers market at the same site, apparently except for the banner ad he affixes to his trailer, which is currently the subject of a complaint.

Perhaps it's time for the town to revisit some of its ordinances.