BY LINDA BENTLEY | NOVEMBER 5, 2014
Town prevails in Echo Canyon easement lawsuit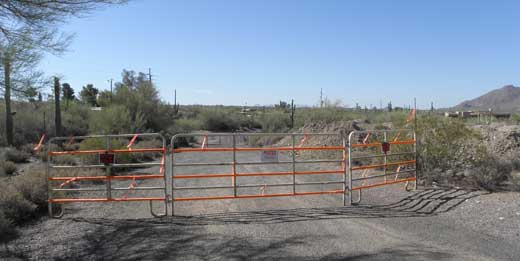 Last week Maricopa County Superior Court Judge Randall Warner ruled in favor of the town which sued for prescriptive easement rights across Echo Canyon Drive at Fleming Springs Road and ordered an injunction against the property owner from barricading the road.
Photo by Linda Bentley


CAVE CREEK – On Friday, Maricopa County Superior Court Judge Randall Warner ruled in favor of the town, which sued property owner Carolyn Brooks Johnstone and her son Christian Schulze, who operated an auto repair business at her residential property at the corner of Fleming Springs Road and Echo Canyon Drive.

After numerous citizen complaints against Schulze, whom they asserted violated the conditions of his home occupation permit, the town revoked his permit.

Shortly after the revocation, Schulze allegedly removed the street signs and installed metal barriers on both sides of Echo Canyon Drive where it traversed the Johnstone property, blocking off what citizens claim was at least two decades of easement rights.

The town, which installed the street sign and has maintained the road since at least 2000, sued in June for an injunction to have the barriers removed.

Warner took the matter under advisement on Oct. 29 and issued his order on Friday.

The court found the town had met its burden of establishing prescriptive easement rights over the property for the public's benefit, noting the public has openly and regularly used the road to go between North Echo Canyon Drive and North Fleming Springs Road for over 10 years.

Warner stated, "The right to use the easement extends to the public and the right to control it for the public's benefit rests in the town."

He also found the installation of a gate or fence on the road unreasonably interfered with the easement and stated, "There is no practical way for the public to continue using the road as it has for the past several years with a fence or gate in place. An injunction is necessary."

Warner ordered the town to lodge a form of judgment consistent with his order and file an application for attorneys' fees or statement of costs within 30 days.