NOVEMBER 5, 2014
Mountain Biking at its best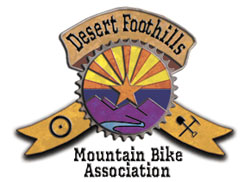 Desert Foothills Mountain Bike Association (DFMBA) was founded in Cave Creek in 2012. This year alone DFMBA members and their volunteers have spent over 500 hours on free trail stewardship and repairs on the Maricopa County Trail System in Cave Creek. The weekend of October 18 and 19 attracted 40 volunteers over the two days to repair damage from the recent monsoon activity. An additional 30+ volunteered for a DFMBA trail repair weekend on October 25 and 26.

These recent volunteer efforts were directed by professional trail builder Matt Woodson from Okanogan Trail Construction, who gave guidance for sustainable trail maintenance.
Environmentally, trail work is done to correct damage from storms, prevent future erosion, direct water shedding to minimize damage and best maintain the most natural, un-altered look to the environment when the work is done.




Economically, these trail systems are world class for many user groups. DFMBA wants to keep them in top shape for continued user attraction. This gem in our own 'back yard' makes a great complement to the businesses in town and helps Cave Creek/Carefree become a true destination for locals and tourists alike. The work of DFMBA will enhance not only outdoor user experiences such as hiking, horseback riding, trail running and mountain biking but also act as a 'world class' draw to our businesses and help ensure success as a community.

As additional proof of their work, DFMBA runs the highly acclaimed and continually growing, annual Cave Creek Cactus Classic (C4) mountain bike race scheduled for November 8, 2014 (registration and information available at www.dfmba.org) attracting racers, friends and family to enjoy Cave Creek trails, culture and to patronize local businesses. Last year's event brought 400 competitors (including 60 under the age of 14 for a separate kids race) and their families to Cave Creek.

If you are interested in learning more, racing, volunteering for the November 8th race, donating to DFMBA or becoming a member, please visit Desert Foothills Mountain Bike Association: http://www.dfmba.org/. If you would like to volunteer to assist DFMBA in their trail stewardship efforts, please visit them on Facebook: https://www.facebook.com/dfmba.

Desert Foothills Mountain Bike Association (www.DFMBA.org) is a 501(c)3 local chapter of the International Mountain Bike Association. The organization focuses on trail advocacy, educating trail users about trail etiquette, enhancing the mountain bike riding experience, introducing the sport to others and working to have Cave Creek and the Sonoran Desert recognized as a nationally acclaimed mountain bike destination.