NOVEMBER 5, 2014
Desert Foothills Theater presents "Anything Goes" Nov. 14 - 23
SCOTTSDALE – Desert Foothills Theater (DFT), a division of the Foothills Community Foundation, continues to celebrate its 40th season with the production of the musical farce Anything Goesset for Fri., Nov. 14 through Sun., Nov. 23 on the main stage of Cactus Shadows Fine Arts Center, 33606 N. 60th Street, in North Scottsdale.

Directed by Sara Bernstein, this musical farce features singing and tap dancing to a comical plot set to music by the incredible Cole Porter. Aboard the S.S. American are Billy Crocker, a stowaway in love with heiress Hope Harcourt, who in turn is engaged to Lord Evelyn Oakleigh. Nightclub singer and former evangelist Reno Sweeney and Public Enemy #13, Moonface Martin, who is posing as a minister, aid Billy in his quest to win Hope. A series of comical mistaken identities ensues as the passengers and crew sing and dance their way across the Atlantic.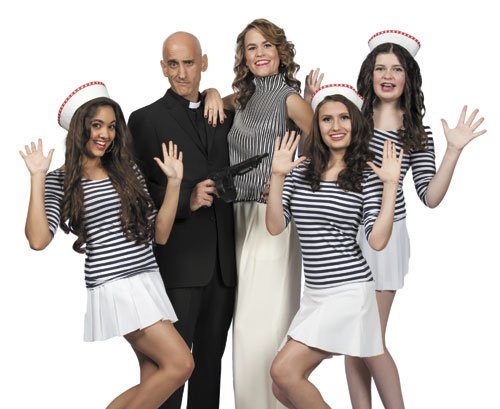 Anything Goes is a shining example of classic musical theater, complete with amazing tap numbers, intricate choreography, campy jokes, unlikely happy endings and eminently hummable Porter songs like "De-Lovely," "I Get a Kick Out Of You" and "Anything Goes." DFT's cast of 32 features performers range in age from eight to 60.

"Desert Foothills Theater has brought together a stellar cast of favorites and new people to our stage, including Kat Bailes as Reno, Matt Harris as Sir Evelyn, Kim Cooperschmidt as Hope and Glenn Parker as Moonface Martin. Jacqui Notorio and newcomer Andy Albrecht round out the leads," Sara Bernstein said. "We're also pleased to welcome our choreographer, Mary Lee Baker, who is new to Phoenix and was a former Rockette for 10 years! She brings new life to our choreography and amazing stage formations."

Anything Goes has special meaning to Bernstein because she first performed in the musical while in high school. "I can still hear my friends' voices in my head as I read the script. The play has lived with me like this for 20 years," she said. "This show has a long history as one of the greatest musicals to ever find its way to Broadway. Cole Porter's beautiful music and inspiring and funny lyrics have made this musical live for many decades. With three revivals, most recently in 2011, this show is a hit for audiences and for actors…which is what makes community theater great."

Performances for Anything Goes are at 7:30 p.m. Friday and Saturday and at 2 p.m. on Sunday. Tickets range from $25 to $32 for adults and $15 to $20 for youth and students. Visit www.dftheater.org or call 480-488-1981.