NOVEMBER 5, 2014
Desert Discovery Day coming up on
November 15
Join Desert Foothills Land Trust for a day of free family fun at Jewel of the Creek Preserve!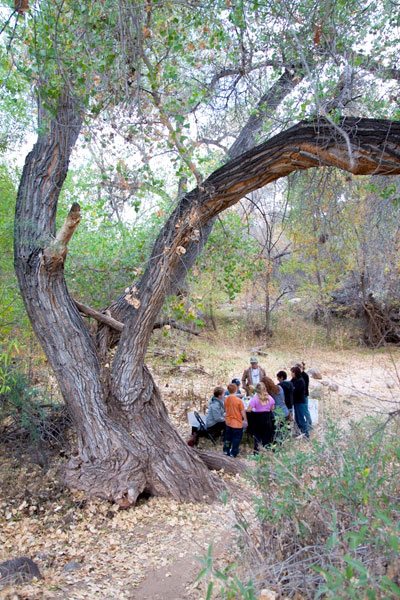 What: Desert Discovery Day
Date: November 15, 2014
Time: 10 a.m. – 2 p.m.
Location: Jewel of the Creek Preserve, Cave Creek, AZ
Cost: FREE!
Directions: The Jewel is located on Spur Cross Road, 3.9 miles north of Cave Creek Road. Parking is available at Spur Cross Ranch Conservation Area
Registration: None required, but groups of 10+ should contact DFLT for the best arrival time

NORTHVALLEY – Join us as we discover the wonder and beauty of our Sonoran Desert home! Desert Foothills Land Trust is thrilled to host a day of free outdoor experiences and hands-on education at the Jewel of the Creek Preserve in Cave Creek, AZ. Festivities will run from 10 a.m. – 2 p.m. on Saturday, Nov. 15.

Children of all ages will enjoy exploring the preserve, learning about the diversity of life in our desert, and examining the geology and history underlying this magnificent landscape.

The day will include fun information stations along the Harry Dalton Trail. Children will receive a stamp in their "passports" at each station, as well as a goody bag for collecting stamps. There will be live animals, crafts, information and activities from the Land Trust and partner organizations. There will also be free refreshments, as well as the release of rehabilitated raptors by Wild At Heart.

Other participating organizations include the Arizona Archaeological Society, Cave Creek Museum, Desert Awareness Committee, Southwest Wildlife Conservation Center, Spur Cross Ranch Conservation Area and Wild At Heart.

"We love to host this event and to share the beautiful Jewel of the Creek with our community," says Land Trust executive director Sonia Perillo. "This is such a fun way to encourage support for conservation and healthy outdoor activities."

The Land Trust has been working on improvements to the trails at the Jewel, so access should be even better this year. The event last year drew nearly 500 attendees. Put on your hiking shoes and bring the kids for some fun and adventure at Desert Discovery Day!

More information is available at www.dflt.org.
Cottonwood and kids by Jon Klas