OCTOBER 22, 2014
Keep safety in mind for Halloween fun
Carving, Candy, Costumes, Common Sense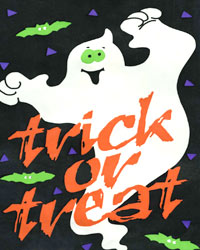 With Arizona finally feeling a chill in the air, we prepare for the first of several favorite holidays – Halloween. Mike MacCrone, Scottsdale Fire Senior Deputy Fire Marshal, shares the 4 C's of Halloween safety with ghosts and goblins of all ages to ensure a safe trick or treat season.

Carving: Statistics show that during October, trips to the E.R. rise approximately 5 percent. One of the most common reasons for this increase is due to hand injuries occurring while carving pumpkins. "Reduce the chances of these injuries by using the right tools at the appropriate age," says MacCrone. If a child is not able to safely handle the knife, allow him to stencil the design on the pumpkin and allow the adult to do the carving.

Candy: Unfortunately, gone are the days of trusting home-baked goods like cookies and popcorn balls, says MacCrone. Parents should be diligent when checking the night's candy bounty prior to allowing their Trick-or-Treater to indulge. "Stick with commercially wrapped candy and discard anything that is opened or has rips or tears," he says. "When in doubt, throw it out."

Costumes: To reduce the chances of a fall, costumes must fit properly. Stay away from billowing or long trailing costumes. If wearing a mask, make sure the eyelets are large enough to not block vision. Although kids generally like to dress in dark colors, bright colors are more visible to motorists. A compromise might be using reflective tape, flashlights, and glow sticks. "This is also a good time to practice Stop, Drop, and Roll," reminds MacCrone.

Common sense: "A little goes a long way to ensuring a safe Halloween adventure," he says. This includes staying on well-lit streets, bringing a cell phone, and staying in groups. Parents with little ones should fully accompany each stop.

For more safety tips, visit www.scottsdalefd.com.