My View

BY DON SORCHYCH | OCTOBER 22, 2014
• Dixon Diaz
• CCUSD
• Cave Creek
• Good news
I hope you noticed our cartoons written and drawn by Dixon Diaz. He named some of them "Boombox" so if you Google that name you will get ads and sources for electronic boomboxes.

Better to Google "Dixon Diaz." There are many different forms of cartoons in his archives and they are all conservative in nature. He makes free use of the slang "libtard" and so Democrats are having a fit.

As the newspaper grows we will find more space for you to enjoy his current view of politics.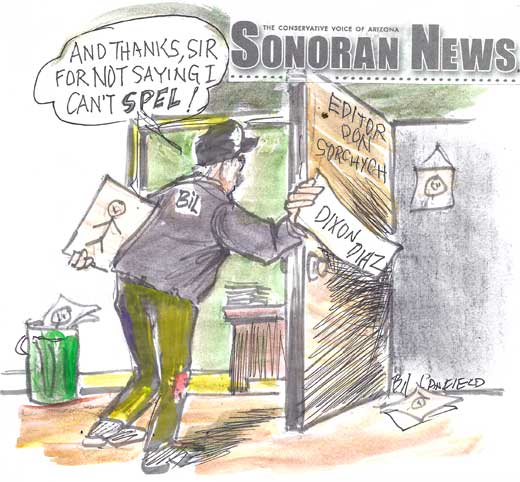 CCUSD
We are clear we are for neither the so-called Repurposing of the bond passed by voters in 2000 or the new $30 million bond. First of all why would you reward the idiot board (except for Susan Clancy and Janet Busby, since they voted against the repurposing) or the superintendent? The money they demand doesn't go to classrooms; they waste it on high salaries to over-inflated numbers of staff.

We are supporting only Angelica Petersen even though she erroneously thinks the 2000 bond money should be spent. At least she is against the Common Core and other offbeat libtard ideas. The courts got it right when they denied use of the funds that were not to be used other than for the purpose voters approved. The scheming of the powers that be to attempt it was behind closed doors. Four members of the school board registered as lobbyists were sent to convince Senators Jim Waring and Nancy Barto to authorize the expenditure of those funds. Goldwater proved the illegality of the expenditure in court. Great lessons for the kids they teach, huh?

Angelica does not favor illegal actions especially at a school. Angelica had a Guest Editorial in the Oct. 15 issue and it is well worth reading if you missed it. Forgive her the stumble about the repurposing. She wasn't here when all the backdoor dealing was going on.

Cave Creek
I received this email last week:

Hello,
Today I received in the mail a letter from Helen Purcell, County Recorder for the county of Maricopa, certifying the receipt of the recall petitions for the four CC council members.

The results certified by County are as follows:
Council Member | Number of petition sheets | Number of signatures | Signatures disqualified
Mike Durkin 284 329 16
Charles Spitzer 297 370 21
Reg Monachino 291 393 24
Adam Trenk 311 425 23

This certification was also sent to the Secretary of State.

I thought you may want to know this information. Looks like we will have a recall election.

Hani Saba
Treasurer
Cave Creek Caring Citizens

Now that petitions have been approved, the recall election will be set for March 2015. There is no doubt Trenk's attorney will once again seek to eliminate petition signatures. The recall PAC has promised an attorney will represent them and the recall petition signers this time since they lost in court the first time around for lack of legal representation.

Good news
In 1995 I was greeted in my office by Bil Canfield, who said "This is the luckiest day of your life." He explained he would do free cartoons for us and that he had retired from the New Jersey Star Ledger after 50 years of employment. Further that he was in WWII as a Boatswain Mate on a battleship. Bil has been a delight for almost 20 years, creating our print and web page cartoons. Bil still carries a sketch pad wherever he goes and can draw portraits or caricatures in minutes.

We celebrated his 94th birthday with the Sonoran News staff on Wednesday last week. Bil sketched our sales manager, Charlie Blankenship and our office manger, David Duhigg. Both of them have posted Bil's handiwork in their offices.

Carefree dentist Dennis Doelle has devoted the walls of an office for Bil's cartoons about his practice and they are a riot.

He creates cartoons for all my editorials. I merely send the draft of my column to him and receive in return his version of what I wrote.

Tell me what other newspaper in Arizona has a 94 year old cartoonist who is as sharp as a knife?

Anyway, belated Happy Birthday to one L Bil!

The other piece of good news is a recent book written about my first employer, Radiation Inc. in Palm Bay, Florida. I received this email a couple of weeks ago:

"I have published my book on Radiation history.

"Just go to Amazon.com and find High Tech Among the Palmettos by Frank Perkins. An easy way is to search in books for High Tech Palmettos.

"Thanks for the information you supplied.

Frank Perkins"

I bought the book, which has an enormous amount of technical details. I applaud Frank for much hard work. The book is principally about the years 1950 to 1960. I joined Radiation in 1960 but Frank's book covers Harris Semiconductor and several articles I wrote about "unforgettable characters" I had met there.