OCTOBER 22, 2014
Kiwanis Concert Series Premiere season starts off with a bang!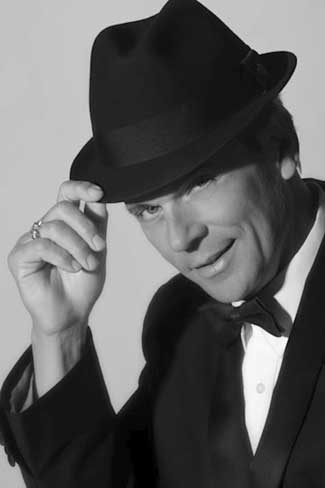 NORTHEAST PHOENIX/SCOTTSDALE - Kiwanis Club of Carefree is proud to announce the premiere season of Kiwanis Concert Series, raising funds for Kiwanis Club of Carefree Benefit Foundation, Inc. The Kiwanis Concert Series starts off with a bang on October 25 and 26, 2014, with "Sinatra & Friends" starring Robbie Howard.

Las Vegas headliner Robbie Howard as Frank Sinatra brilliantly delivers the music, comedy and memories of the Rat Pack with all the smoothness of "Old Blue Eyes" himself. A world-renowned impersonator, Howard recreates Sinatra and his Rat Pack pals, plus celebrities Johnny Carson, Willie Nelson, Julio Iglesias, Andy Williams, Paul Anka, Tom Jones, and Barry Manilow. With an arsenal of over 60 different vocal impressions, Howard has sold out long-running shows in Las Vegas for more than 20 years. With favorites like "World on a String" and "New York New York," you're going to enjoy every minute!

"Frank Sinatra is coolly, confidently embodied by Robbie Howard" - New York Times

"He sounds so much like Sinatra it will send chills down your spine." - East End Theatre Reviews, NY

Next at the Kiwanis Concert Series is Beachfront Property on January 10, 2015. Although it's not prime real estate along the ocean, Beachfront Property is one hot property, performing everything from the American Songbook of Jazz Classics to the #1 hits of Rock n' Roll. Described as "sounding like Manhattan Transfer meets Take 6," the group's smooth singing style combines the rich sounds of jazz with the fun and energy of pop music. Beachfront Property has shared the stage with Mel Torme, The Four Freshman, The Hi-Los, Kenny Rankin, Crystal Lewis, The Brothers Four, and Emerson, Lake & Palmer.

All of the Kiwanis Concert Series shows are held at the Sanderson Lincoln Pavilion in Carefree Town Center Gardens. A Six Show Package is available for $140. Individual Show Tickets are $30. For information or tickets call 480-488-7169 or visit www.kiwaniscarefree.org. Tickets may also be purchased at The Kiwanis Marketplace, 6535 E. Cave Creek Road.

For information on Kiwanis Club of Carefree and its youth education programs in the arts, sciences and living skills, and scholarships, please call 480-488-8400 or visit www.kiwaniscarefree.org.