OCTOBER 22, 2014
Local DAR celebrates fall activities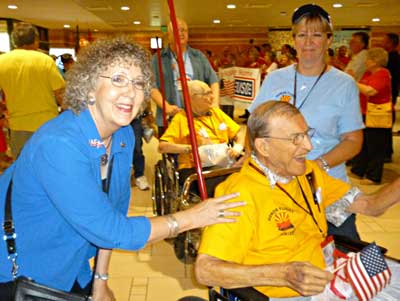 Honor Flight: Tracy Justinak, chapter DAR Service to Veterans Committee co-chairman, welcomes home WW II veterans from a September Washington, D.C. Honor Flight. Tracy is the winner of the DAR's Southwest Division Outstanding DAR Veteran Volunteer award and a National Outstanding Veteran Volunteer award finalist.


SCOTTSDALE – Scottsdale-chartered Grand Canyon Chapter Daughters of the American Revolution (DAR) held its second fall meeting October 4 at Chaparral Suites Resort, Scottsdale.

Guest speaker was Sandra Froman, J.D., Harvard Law School graduate and producer of America's first law school Second Amendment Symposium at the University of Arizona.

Grand Canyon Chapter DAR serves the local community through the work of its committees. On Sept. 25, the chapter's Service to Veterans Committee co-chairman, Tracy Justinak, and several chapter members welcomed home returning WW II veterans who had attended an Honor Flight to Washington, D.C. to view the National WW II War Memorial. Throughout the fall, Robbin Parisek, the chapter's Flag of the United States of America Committee chairman, will present her "What Does the Pledge Really Mean?" and Flag Code programs to elementary schools in the Valley.

The next meeting of Grand Canyon Chapter is November 1. The program is "Women in Combat," presented by Lt. Col. (Ret.) and candidate for the U.S. Congress Wendy Rogers. Guests are welcome. For reservations and to arrange a flag presentation at a local school contact Regent Kathy Shields at 602-820-5427 or dargrandcanyon@gmail.com.