OCTOBER 15, 2014
Preparations begin for Desert Foothills Christmas Pageant
7 p.m. December 6 & 7; Spur Cross Ranch Conservation Area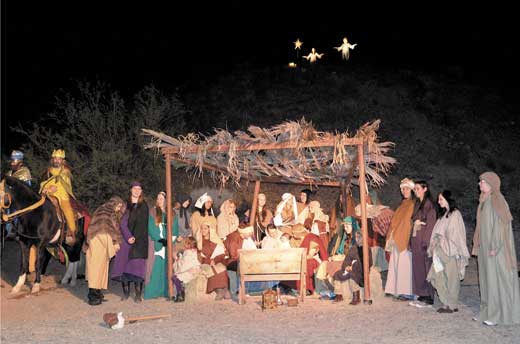 DESERT FOOTHILLS – Kiwanis Club of Carefree hosts the annual Desert Foothills Christmas Pageant, delighting hundreds of spectators from Cave Creek, Carefree and drawing visitors from throughout the metro Phoenix/Scottsdale area. Local residents perform in the choir and make up the cast. Volunteers handle all aspects of the Pageant, from ground prep, sound tech and sets, to luminaria placement and critter coordination. Anyone with choral experience who would like to sing in the choir should contact Desert Foothills Christmas Pageant music director Steve Norris. Choir rehearsals are held at Desert Foothills Lutheran Church, 29305 N. Scottsdale Road at 7 p.m. every Friday in November (11/7, 11/14, 11/21, 11/28) with dress rehearsal on December 5. Performances are December 6 and 7. "Some choral reading ability is necessary. Anyone interested (especially tenors!) can leave a message at 480-209-8966 or kamnorris2@q.com," said Norris.

"There wouldn't be a Pageant without the volunteer crews who set everything up and help run the event," said Kiwanis Club of Carefree member Toby Payne, longtime organizer of the Desert Foothills Christmas. "We need as many people as possible to participate and keep this 62 year tradition alive." "If you would like to be in the cast with your animal, you must make arrangements with the Pageant in advance and attend rehearsal.

Anyone interested in volunteering or requiring additional information should contact Toby Payne at 480-544-2290. For information on Kiwanis Club of Carefree please call 480-488-8400 or visit www.kiwaniscarefree.org.