BY LINDA BENTLEY | OCTOBER 15, 2014
Carefree attorney moving on to 'greener' pastures
"I look forward to helping American Green end the damage caused by 75 years of destructive cannabis prohibition"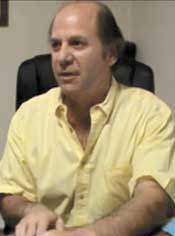 CAREFREE – On Oct. 1, Carefree Attorney Jerald "Jerry" Chesler sent a letter out to his colleagues, clients and friends announcing he will be closing his Carefree-based law practice, effective Oct. 31.

Chesler, who has served the area for two decades, said he is seizing an opportunity he simply cannot pass up and will be joining American Green, Inc. as their General Counsel and Vice President of Cannabis Operations.

American Green issued a press release the same day announcing the hiring of Chesler, whom it referred to as a "preeminent Arizona and New York medical marijuana business attorney."

American Green President Stephen Shearin stated, "Mr. Chesler will play a key role in our new MMJ (Medical Marijuana) Managed Services division" and touted Chesler as a big win for the company due to his long list of industry contacts and national reputation as a cannabis speaker.

Chesler has been involved from day one with MMJ in Arizona, one of the most regulated states for MMJ, which had no unregulated MMJ program prior to the passage of its voter referendum.
According to American Green, Arizona has become a model for future MMJ states and a magnet for serious investment and Chesler's extensive experience with MMJ law policies and procedures gives American Green a "decided competitive advantage" with its planned expansion in other states.

Chesler stated, "I have loved my cannabis business practice for the past four years and would have been very happy to just continue that. But the opportunity to join an industry leader like American Green, right here in Arizona, was simply too attractive to pass up. I believe we will be able to accomplish great things in medical and adult-use cannabis distribution, product development, branding and intellectual property … I look forward to helping American Green end the damage caused by 75 years of destructive cannabis prohibition."

According to Chesler, there are broader goals with respect to MMJ, which he believes will eventually lead to the entire decriminalization of marijuana.