BY LINDSAY CRNKOVICH | OCTOBER 15, 2014
A girl's best friend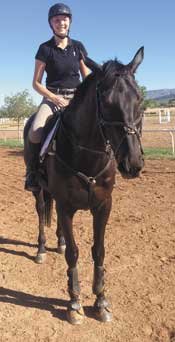 She rode with a black collared shirt tucked into her tight brown riding pants. Her boots rose to her knees. She matched her black steed as she galloped him around the racetrack.

Elaina Corbin is a junior in high school and has been pursuing her passion of riding horses for 10 years. As she described her first memory, she recalled once driving past horses with her eyes glued on each movement they made. That's when her mother had asked her if she wanted to start taking lessons.

"The addiction kind of started," Corbin said as she hosed down her horse Monte after a morning ride.

Corbin competes Monte in a very daring kind of sport called three-day eventing. The first, dressage, is a task that requires a rider to show two judges how obedient and willing their horse is to perform a series of movements in a small, rectangular arena. The rider must keep their horse calm and collected while maintaining a smile and stellar posture.

The second and third phase is where the fun begins. Cross-country tests the horse's stamina and the rider's ability to make decisions as they both gallop over solid wood jumps. Show jumping, the third and final event, can be very challenging. The horse and rider must navigate through a strategically designed course without knocking down any rails, which is an accuracy test to see how fit the pair is after cross-country.

"He knows his job. I know I can always count on him," Corbin said. Corbin has many goals and hopes to move up to the next level after she competes in California at the training half-star, a competition that adds a steeplechase event on a racetrack right before the rigorous cross-country phase.

"Basically you're going really fast over a bunch of brush steeplechase fences," Corbin said with an excited grin on her face. The event is all timed and the faster, the better. A college future near, Corbin hopes to continue to ride despite all the persistence she will need as she pursues a possible career in veterinary medicine.

She knows the risks and though her mom would like to see her focus on her studies, Corbin is convinced having her horse with her through such a big stage in her life will be very beneficial.
"I'm talking her into it and telling her how it will keep me out of trouble and all that," Corbin said.

When asked if she felt that her mother was supportive, Corbin said, "Oh yeah definitely because she knows how important it is to me and it would be very hard for me to drop it completely."

Though it may be difficult to care for a horse, maintain schoolwork and still have a life, Corbin is willing to try it for the sake of keeping her passion alive.

Corbin has progressed in her riding thanks to her dedication and coaching from her trainer, Alice Sarno (below) of the Carefree Farms horseback riding facility. Sarno said she looks forward to seeing Corbin at her competition in California.

"She's going to be very competitive if she can keep her horse quiet enough for dressage. He's show jumping really well and he's super cross-country," Sarno said. "She's worked hard all year long. She's very capable."

We wish the best of luck to Corbin!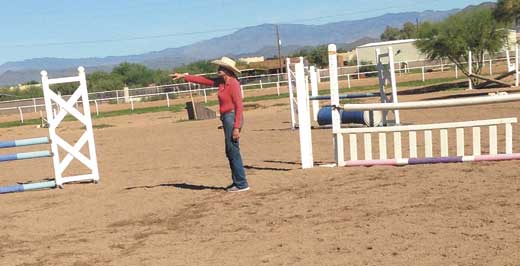 Photos by Lindsay Crnkovich