OCTOBER 15, 2014
Wild West Days events
Premier events & Stagecoach Village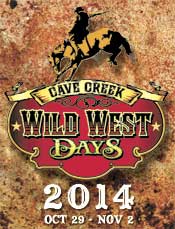 Bachelor/Bachelorette Auction, 8 p.m. Oct. 29
Your cowboy hat is starting to collect dust. You're humming the theme song to the classic TV western "Bonanza." Rather than talk in your sleep, you're calling out for someone to Country Swing Dance with. You're drawn to pointy snakeskin boots and chaps. It's time to come out to the 1st Annual Cave Creek Wild West Days Bachelor/Bachelorette Auction! $20 gets you in the door and your bidding panel. You also get a free drink and appetizer! Half the proceeds of the auction will go to the charities chosen by the contestants and the other half will go to The Cave Creek Merchants Association. Come enjoy the fun!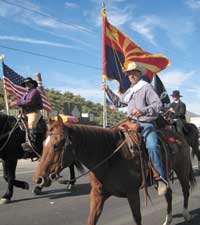 Wild West Days Parade, 9 a.m. Nov. 1
Wild West Days Parade is a True Western non-motorized Parade! – honoring our service men and women – gunshot kick-off with Mayor Vincent Francia, and The Cartwright Family as our Parade Marshall.
Mutton Bustin, 11 a.m. Nov. 1
(check in after the parade)
Calling all adventurous children between the ages of 4 to 7 who are hankering for a real live Wild West Days experience of their own, here's your chance! Saturday morning November 1st immediately following the parade kids will have the chance to participate in Wild West Days Mutton Bustin'. The arena and check-in is at the arena directly behind the Buffalo Chip Saloon & Steakhouse. We supply the helmets and the sheep…you supply the cowpokes and get ready for some fun. They will experience climbing in the same chutes the bull riders use, except they will be mounting a big woolly sheep. With an official number pinned to their back and a solid grip on the sheep's neck, the gate swings open giving them a fun ride experience they will never forget. Sign up early as we can only take 50 riders. Parents, make sure to bring your camera. See details on the "registration form." Hope to see you and you little wranglers there!
Bath Tub Races, 12 p.m. Nov. 1
Wild West Days in Cave Creek is the only event in the West to host Bath Tub Races. Contestants create their own unique and crazy non motorized bathtub vehicles. The team pushes the bathtub to a designated point and then is released. Off they go! The Bath Tub Races have many spectators who place their bets on their favorite team of races in hopes that they will be the winning tub on wheels as they fly down the road in quest for this year's title.
Miss Wild West Days, 7 p.m. Nov. 1
Ms. Wild West Days represents the Wild West on her own terms and in her own way. Each entrant will be interviewed and asked a series of questions to give them an opportunity to share their views and their western lifestyle. Each entrant will be judged individually by a panel of distinguished men and women, including Cave Creek's Mayor Vincent Francia and Johnny Ringo. The winner of Miss Wild Days will be crowned with the Miss Wild West Days crown and sash, in addition to winning Cash and Prizes worth up to $500. Ms Wild West Days must be available to represent Wild West Days at special events and parades throughout the year. All contestants are required to participate in the Wild West Days parade Saturday November 1st.
Visit http://wildwestdayscavecreek.com/registration-forms.
Wild West Days at Stagecoach Village
Friday


Wild West Gala at Stagecoach Village: A "Western Affair" Under the Stars
6 – 10 p.m. Friday, Oct. 31
Stagecoach Village, 7100 E. Cave Creek Road, Cave Creek
$55 per person | $100 per couple
480-200-2844 or wildwestdayscavecreek.com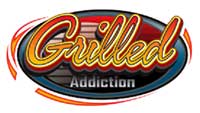 Enjoy the outdoor desert setting as the sounds of The Cowboy UP! band fills the air while Grilled Addiction caters a savory buffet dinner at Stagecoach Village's Inaugural Gala during Wild West Days on Oct. 31st. Beer and wine will be available at the cash bar and dancing will be led by Robert Blair of Ambiant Dance.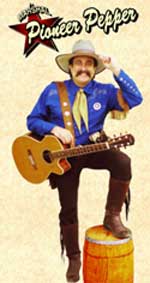 Saturday
Vendor and Food Trucks 10 a.m. – 5 p.m.
KidZone Featuring Desert Dwellers Trackless Train Rides
Live Entertainment:
The OK Chorale Cowboy Trio, 10 a.m. – 1 p.m.
The Rusty Pistols from Prescott , 2 p.m. – 5 p.m.

Sunday
Vendor and Food Trucks 10 a.m. – 3 p.m.
KidZone Featuring Desert Dwellers Trackless Train Rides
Live Entertainment:
Pioneer Pepper and the Sunset Pioneers , 10 a.m. – 3 p.m.