BY MARIELLE D. MARNE | OCTOBER 15, 2014
Bill Mulliniks and State Farm Insurance, definitely good neighbors!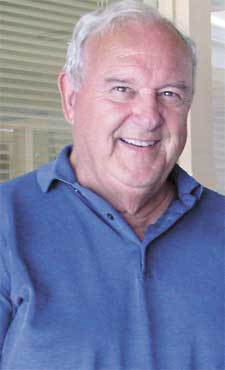 CAREFREE – If you live in or nearby the Cave Creek/Carefree area, when you hear of State Farm you can't help but think of Bill Mulliniks, and if you hear about "Bill," you automatically think State Farm. For more than 40 years, the two have gone hand in hand.

There are countless reasons for Mulliniks' success. First and foremost, he enjoys what he does. He is able to work with people and help fix their problems. Each client is taken care of according to his or her individual needs. "We are service more than sales," Mulliniks explained.

Of course, when you need an insurance policy (or State Farm also offers financial products) for home, life, auto, renters, small business, any one of Mulliniks' team of licensed agents – Ruebie Weldon (who has been with Bill for 18 years), Kathy Darcy, or Bill's brother, Mickey Mulliniks – can assist. Their clients, who come from all over the valley, are consistently so impressed, they happily refer friends and family.

Given the dynamic nature of insurance, Mulliniks always encourages his customers as well as those from other companies to come in for a policy review. It's smart, proactive and free! The office (located in the same building since 1983) is open Mon-Fri 8:30 a.m. – 5 p.m. Make an appointment to see how State Farm can be there for you like a good neighbor.

You can learn more about State Farm's Bill Mulliniks at http://billmulliniks.com or by calling 480-488-2101. The office is located at 748 Easy St., in Carefree.