BY LINDA BENTLEY | OCTOBER 8, 2014
Will divided council decision reignite 20-year old horse wars?
'If this is a town where the Wild West lives, I'd hate to see the rodeo go'
CAVE CREEK – During Monday night's lengthy council meeting, Mayor Vincent Francia reminded citizens the town's signature Taste of Cave Creek event was coming up on Oct. 15 and 16.

He also announced Office Hours with the Mayor and Vice Mayor Adam Trenk, who was appearing telephonically that evening, would be cancelled this week, due to them both being unavailable.

Mark Lipsky spoke during Call to the Public to encourage the town to get the needed repairs to Spur Cross Road, where it is currently a single very narrow lane, completed as soon as possible, stating he feared there will be an accident.

Carefree resident Jim Peirce also spoke to address three issues, including wanting an update on the 4,000 acres of open space, which he said he opposed, that the town annexed and is in negotiations with the Arizona State Land Department to purchase; the McDonald's site, which he said was "falling apart before our eyes;" and a request to post the briefs in the pending litigation against the town by the former town manager, which he stated were public records, on the town's website.

Council voted unanimously to provide Desert Foothills Community Foundation with $10,000 for Fiesta Days.


Fiesta Days and Cave Creek Rodeo President Traci Casale (r) told council Cave Creek Fiesta Days Rodeo is a 2014 nominee for the Professional Rodeo Cowboys Association (PRCA) Small Rodeo of the Year Award.

Casale said it is quite an honor just to be nominated and Cave Creek was the only rodeo in Arizona to receive a nomination.

The winners in all categories will be announced on Dec. 3 at the PRCA Awards Banquet.

Councilman Charles Spitzer, once again, requested more backup information in the council packet when requests for money are being made so citizens can see how the money will be spent.

Casale explained their expenses are $135,000, with $67,000 of it raised by sponsorships and fundraising.

However, she stated their number one priority is still upgrading the code-deficient bleachers in Section 5, which was also on the agenda.

Town Manager Peter Jankowski explained the monetary commitment by the town goes toward the various expenses involved in putting on Fiesta Days and is not earmarked for any particular line item.

Another agenda item dealing with the bleachers was moved up on the agenda.

Jankowski said the $25,000 to allocate to the rodeo grounds for bleachers would be moved from contingency funds and wouldn't affect the overall budget.

Casale told council it was a sole-source vendor because there weren't very many companies that deal with stadium seating and calls to other companies resulted in disconnect recordings.

She said the vendor selected is reliable and has been around for 75 years.

Casale said the only other option is to rent bleachers.

However, she said they only make $1 a seat if they rent.

Councilman Mike Durkin asked how many seats they were talking about.

Casale said the code-deficient Section 5 had 700 seats and the VIP section was 250.

Durkin asked how often they were used during the year.

Casale said they only use it for the one annual event.

Durkin asked how much it cost to rent bleachers.

Casale said she didn't have that information with her but could provide it.

Trenk asked if they were just moving money or approving an expenditure as well.

Town Attorney Fredda Bisman said they were doing both.

Everett Bell addressed the bleachers and said he would certainly like to know the cost of renting and would like to have seen more diligence done.

Lipsky said it sounded like an immensely underused venue.

Terry Smith stated there were a lot of other events that use the venue and if the facilities were fixed up there would probably be more uses.

Jankowski said there was a group that used it on a regular basis but he didn't know if they used the bleachers.

Councilman Ernie Bunch moved to authorize the expenditure of $25,000 toward bleachers and said it was a matter of bringing the facility up to par or not having an event.

Durkin said it was a great cause but it wasn't their money, it was the citizens' money.

He said he would like to see costs from more than one vendor and the cost of renting.

Councilman Reg Monachino said it was a matter of safety and, "If this is a town where the Wild West lives, I'd hate to see the rodeo go."

Spitzer said he didn't like sole source things but $25,000 was the approximate cost to take the old bleachers down.

McGuire said Durkin presented some good ideas and asked if they had time.

Jankowski said they really didn't.

Trenk said it pained him because he is a big supporter of the rodeo but stated it needed more diligence.

He said, "It seems we can rent bleachers for $8 - $9 per seat."

Francia said Fiesta Days was right around the corner for planning purposes and he was willing to go out with anyone to brainstorm other events.

The motion failed by a vote of 3-4 with Spitzer, Trenk, Monachino and Durkin dissenting.

The mayor asked staff to bring the item back in two weeks.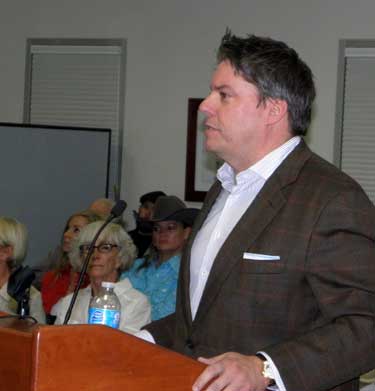 Carson Bise (r), president of TischlerBice, presented the recommended water capacity charge components, which he said were broken down into two service areas: Cave Creek, which includes Carefree and portions of unincorporated Maricopa County, and Desert Hills.

Bise stated they operate as two separate systems.

The proposed fees for the Cave Creek service area for 5/8 and 3/4 inch meters were $4,589, a decrease of $3,659 from fees set in 2008.

Recommended fees for the same sized meters in the Desert Hills service area were $7,451, a decrease of $797 from 2008.

Wastewater capacity fees are only for Cave Creek, with proposed fees at $8,475, an increase on $918, based on a 5/8 and 3/4 inch water meter.

Bill Allen, who serves on the Water Advisory Committee (WAC), said three days after WAC reviewed the report, Bise was at town hall and they discussed changes they felt should be made.

Allen said the changes were made and the committee recommended that council approve the fees as presented.

Allen also noted the fees would only apply to new construction that would receive the benefits of the town's water and/or wastewater services.

He said they previously applied to any new construction.

Council voted unanimously to adopt the new fees while Francia thanked the WAC and Bise for their work.

Jankowski proposed a transfer of $50,000 from contingency funds to pay for a part-time engineer, which he said has become abundantly clear as necessary, either for a temporary or permanent employee.

During public comment, Bob Morris, who serves on the WAC, said he was concerned with temporary help, as the town needed a reliable water and wastewater system, and recommended the town hire a permanent person.

Allen agreed and said the town really needed a backup person for Town Engineer David Prinzhorn. He said the position needs to be established and funded.

Council voted unanimously to approve the engineering position for up to $50,000.

Council also voted unanimously to pass the second reading of an ordinance applying to allowable projections into yards, which Planning Director Ian Cordwell stated was inadvertently removed sometime along the line during cutting and pasting while updating the zoning ordinance.

A divided council passed the second reading of an ordinance addressing the approximately 240 non-conforming legal parcels in Desert Rural DR-89 and DR-190 zoning districts that ended up being less than two acres, due to a variety of reasons, to restore ranch uses on those parcels.

Bunch, who moved to pass said he's been wanting to do this since he was first elected to council in 2005 and stated the government would be restoring property rights taken away by the same government.

Durkin pointed out, regardless of the size of the parcel, the setback requirement for ranch animals to adjacent properties is the same.

Spitzer agreed property rights were taken away from people on the west side but said it wasn't fair to half of the people living adjacent to the rest of the properties.

Trenk said, "I don't know what map you're looking at," and claimed it would only affect around 12 other properties.

Francia said the horse wars were going on when he was first on council and the two-acre requirement for ranch use has kept the peace for the last 20 years.

The motion passed by a vote of 5-2 with Francia and Spitzer dissenting.

Council voted unanimously to approve the site plan application for Peter Nelson for an 8,500 square foot commercial building at the southeast corner of Cave Creek and Olesen roads.

A unanimous council also voted to approve site plan amendments for both Phase one and two for Cahava Springs Ranch.

Applicant Mark Stapp said the changes involved moving a water storage tank and the addition of a second entrance on 32nd Street.

There were also lot line adjustments, which Stapp said resulted in no increase in the number of lots (130), only the total has changed between phases.

Prinzhorn asked council to approve a $178,899 contract with Cactus Asphalt.

However, when questioned about some of the details on the stop gap portion of the request, Prinzhorn was unable to point to it in the council packet.

He said, "Something doesn't look right," and asked to pull the agenda item and bring it back to council on Oct. 20.

Prinzhorn was, once again, in front of council apologizing and asking for approval of an after-the-fact expenditure for pump repairs.

While council voted unanimously to approve the expenditure, Francia wanted assurances that this would be the last time Prinzhorn authorized expenditures without seeking council approval when necessary.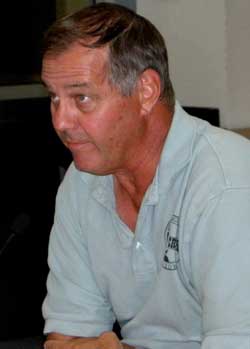 Prinzhorn (r) assured Francia it would be the last time and said Jankowski had already "reamed him" pretty hard over it.

Council voted unanimously to direct staff to establish performance measurements for the efficient service, maintenance and economic performance of the water and wastewater utilities to be presented to council no later than the end of November and a pilot program in place with a written status report presented to council by the end of the year.

Jankowski brought the second of three policies to council's attention that he said were in place without council's approval.

The policy had to do with issuing a one-time adjustment to a customer's water bill in the event of an undetected leak that resulted in a much higher than normal water bill.

The adjustment would allow for the water customer to be billed at the lowest tier rate instead of the highest that one time, which could result in a difference of hundreds of dollars.

During discussion, Trenk said he thought the conversation was "absurd" and, because "water is our most precious resource," said he could see working out a payment plan for the customer to pay but said he would not in any way support a policy that would adjust the bill.

The policy passed by a vote of 4-3 with Trenk, Spitzer and Monachino dissenting.

Last on the agenda, Jankowski asked council to approve the purchase of a 2015 Nissan Xterra at cost of almost $27,000 for multi-departmental use.

Although Jankowski described the need for another vehicle, noting many employees have been using their own vehicles to perform town business because no vehicles were available, Durkin questioned the need for it to be a new vehicle.

Monachino said he failed to understand why the 16 vehicles the town already owns were not enough.

Trenk complained about the information provided in the council packets not being thorough and while he said it wasn't an issue to him if it were a new or used vehicle, he couldn't support the item.

Bunch argued it wasn't just about money but providing service to customers.

Council voted to approve the purchase of a vehicle at a price not to exceed $19,000 by a vote of 4-3, with Monachino, Spitzer and Trenk dissenting.