OCTOBER 8, 2014
Aspiring Eagle Scout enhances Foothills Food Bank's inventory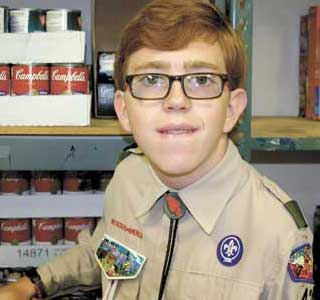 CAVE CREEK – On September 27, Jason Ritter (r), of Troop 439 Life Scout from Desert Hills, Ariz., working towards Eagle status, planned and executed a food drive to benefit the Foothills Food Bank and Resource Center. The result of his effort: 2,389 pounds of food and more than $1,500 in monetary donations.

Ritter held the drive at two Fry's locations and several local businesses.

"Several television news stories and print and radio coverage generated a great deal of interest and awareness resulting in fantastic results," says Pam DiPietro, executive director of Foothills Food Bank. "We have been blessed with amazing commitment and support from our community and Jason's efforts and results were exemplary. This is one of the largest food drives done by an individual we have experienced."

As a result of his hard work, Ritter's food drive outcome will be submitted for evaluation as an Eagle Scout candidate.

Donations can be made to Foothills Food Bank to help defray costs. The Foothills Food Bank and Resource Center is located at 6038 E. Hidden Valley Drive in Cave Creek, Ariz.