BY LINDSAY CRNKOVICH | OCTOBER 1, 2014
Smith new Planning and Zoning commissioner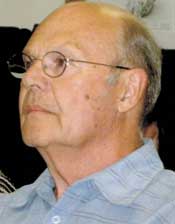 CAVE CREEK – David Smith, who recently addressed the Cave Creek Town Council, highlighting his past experience and philosophy of "development and rationality," was later appointed to fill the seat vacated by John Ford on the planning and zoning commission.

David Smith, resident of Cave Creek, said he has learned a lot about the town as part of the water advisory and budget committee and aspires to continue serving the town by advising and supporting the council, in his letter of interest.

"I see how unique this town is," Smith said. "Uniqueness needs to be maintained."

Smith acknowledged that he could see there are many opinions from the community "that go one way or the other."

Smith said he would like to provide Cave Creek citizens "development and rationality." Many in the room gave their thoughts and hope to see a higher respect for the planning and zoning commissions.

"I'd like to appoint David Smith," said Vice Mayor Adam Trenk. Council member Reg Monachino seconded. Smith got the four required votes to confirm his nomination to fill the vacancy on the commission.

Smith was not the only candidate considered for the position.

Grace Meeth, former member of the commission years ago, spoke of her community service history, her house full of animals she has taken in through her work at a rescue and her dedication to the town she calls home, in her resume to the council.

"I want to be considered," Meeth said. Councilman Charlie Spitzer nominated Meeth, but Smith received the most votes and was awarded a term that expires in December of next year.

Another candidate, Diana Grillo, was also evaluated according to the agenda. She had sent a resume and cover letter to Mayor Vincent Francia, however, she did not provide any comments regarding nomination at the meeting.