OCTOBER 1, 2014
14th Annual Foothills Empty Bowls Project Lunch set for Fri., Oct. 17
Help fight hunger at Foothills Food Bank's largest fundraiser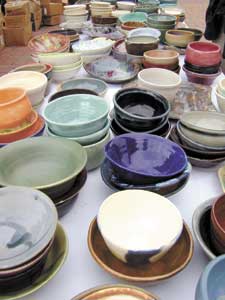 NORTH VALLEY – The Sonoran Arts League, the Town of Carefree, Carefree Resort & Conference Center, Marjon Ceramics and Laguna Clay are inviting the public to help fight hunger at the 14th Annual Foothills Empty Bowls Project Lunch set for Fri., Oct. 17 from 11 a.m. to 1 p.m. at Carefree Town Center on Easy Street.

Empty Bowls continues to be the Foothills Food Bank's largest fundraiser, and Carole Perry of Laughing Glass Studio who has served as event chair for the past 14 years, hopes people will turn out in droves this year. "All event services are donated and 100 percent of proceeds benefit the food bank. It's a wonderful way to help others in need," she said.

Patrons can choose to purchase an original, artist-crafted bowl, dine on pasta and bid on the artwork offered by members of the Sonoran Arts League in the silent auction. More than 2,000 hand-crafted ceramic and glass bowls will be available for a minimum donation of $15. Credit cards are accepted. All proceeds benefit the Foothills Food Bank & Resource Center.

Pam DiPietro, the food bank's executive director, said the Foothills Food Bank is spending more money on food purchases than ever before.

For more information about the 14th Annual Foothills Empty Bowls Project, call 480-488-1145 or visit www.foothillsfoodbank.com or www.SonoranArtsLeague.org.