BY LINDA BENTLEY | OCTOBER 1, 2014
CCUSD93 candidate forum, bond initiatives
Peterson sees Common Core as the march toward federal government control and indoctrination in the classroom
CCUSD93 – A candidate forum for the three Cave Creek Unified School District governing board candidates will be held at 6:30 p.m. on Monday, Oct. 6 at the Cactus Shadows High School Fine Arts Center on 60th Street, south of Carefree Highway.



Angelica Peterson, Mark Warren and Cynthia Weiss are vying for two seats on the board.

The candidates will each have an opportunity to make an opening statement, followed by 30 minutes of questions developed by students in both the International Baccalaureate and National Honor Society programs.

Each candidate will be provided a turn at answering these previously submitted questions.

There will also be 20 minutes set aside for audience members to ask the candidates questions.

Originally, there were four candidates running for the two open four-year terms.

However, Cave Creek Vice Mayor Adam Trenk successfully sued to have incumbent Susan Clancy, whose valid signatures fell three short, removed from the ballot.

It appears Trenk sued out of vindictiveness, as Clancy is chair of the political action committee to recall Trenk and his fellow slate councilmen: Mike Durkin, Reg Monachino and Charles Spitzer.

Peterson, unlike the other two candidates, was not hand-picked by the superintendent and has no school-aged children.

Peterson strongly opposes the Common Core curriculum and its cradle-to-grave tracking of students.

Having immigrated to the United States from a communist country, Peterson sees Common Core as the march toward federal government control and indoctrination in the classroom.

Peterson is also appalled by the district's continuing fiscal irresponsibility and is very passionate about wanting to turn that around.

She was appalled by the district's recent spending of around $500,000 to build an addition to the Cactus Shadows High School cafeteria plus furnishings for the new addition.

The project's contract called for roofing only the addition, not the entire cafeteria, despite the original cafeteria roof requiring replacement.

Warren is an administration-picked retread, who taxpayers previously rejected, due to his support of astronomically expensive, frivolous and fiscally irresponsible spending.

Readers may recall his support of the voter-rejected $4.75 million bond for an indoor aquatic center, which would have housed a half-sized, rather than full Olympic-sized pool, for the approximately 60 district-wide swim team members.

Taxpayers not only rejected the Warren-led aquatic boondoggle but overwhelmingly voted against his board-approved $121 million bond package that included a new $60 million high school the district didn't, and still doesn't, need.

Warren is responsible for building the middle school the district didn't need, which subsequently forced the closure of one of its two middle schools, requiring students to be bused to the southernmost boundary of the school district.

Warren is responsible for issuing bonds the district didn't need, only because they were going to expire.

And, he was on the board when it voted to use that bond money to fund projects other than those authorized by voters.

Had the Goldwater Institute not sued on behalf of district taxpayers who objected to the board's wanton disregard of the voters' will, he may have gotten away with it.

The last time Warren served on the board he resigned mid-term, claiming he accepted an out-of state job promotion.

Warren never left town.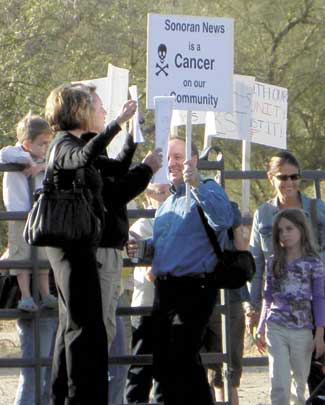 Cynthia Weiss, wife of realtor Ron Weiss, who picketed the local newspaper back in 2009, calling it a "cancer on the community" because it provided district voters with information to make informed decisions on school bonds and budget overrides and refused to print letters to the editor that consisted of propaganda and lies.

Weiss, a globalist who supports the befuddling Common Core curriculum, was hand-picked to run by Superintendent Debbi Burdick.

She's buddies with union-backed Rep. Heather Carter, R-Dist. 15, a liberal Democrat who ran as a Republican in order to get elected in a conservative district.

After Carter was censured by the LD-15 precinct committeemen for voting with the Democrats, she simply stopped showing up at their meetings.

Weiss supports the Carter-introduced loophole in the law that became Burdick's, and subsequently the board's, decision to turn as many of the district's schools into district-run charter schools as the law allows so it can receive more money from the state.

Weiss states converting to charters did not increase per-pupil funding but somehow "successfully reduced the impact of override funding losses."

Now the district is asking taxpayers to approve a $30 million bond package for facility renovations, which includes items such as roof replacements.

After the Goldwater lawsuit, rather than using the remaining $10,200,000 to pay down the district's existing $13,750,000 in bond debt, a permitted use of the funds, Question Number 1 on the ballot is now asking voters to reauthorize the use of those funds for other capital projects, many of which include maintenance of existing facilities. That's the ballot measure where you may have seen signs to vote yes "with no new taxes."

The board, which included Warren at the time, could have asked voters to do that several years ago, before issuing the bonds and before attempting to usurp the will of the voters by illegally using the bond proceeds for other projects other than those authorized by voters.

Over 600 students, the equivalent of an entire school, left the district over the past five years.

The district has failed to pass seven of its last nine attempts to increase property taxes.

Just because there are two seats open and three candidates, there's no requirement to vote for two people.