BY MARIELLE D. MARNE | OCTOBER 1, 2014
Clients can expect royal treatment at Red Velvet Tailoring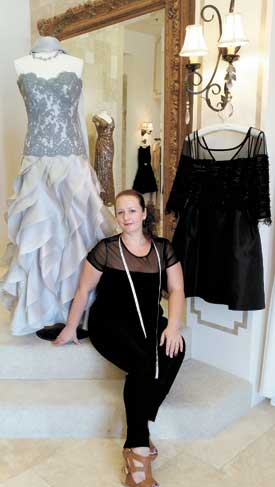 CAVE CREEK – Red Velvet Tailoring celebrated its five year anniversary in June and owner Katerina Miroshnichenko is still surprised when folks in the area are just learning there's someone in their own neighborhood who does alterations! "They tell me they have been driving downtown or to Paradise Valley and are so glad they found me!" she said.

Most people think of tailors for taking in waistbands or shortening hems. If the latter, Katerina advised to be sure to bring the shoes you'll wear with your garment for the optimal length. Know, too, if you have a fancy hem on high-end jeans, for instance, she can preserve it, just ask. Of course, a favorite for Katerina is altering bridal and formal wear, having a contract with Scottsdale's Quintessential Bridal and Formal Wear. However, outside of basic stitches, Red Velvet offers so much more.

Find a bedspread you love and want matching drapes? Bring in either the same fabric or something that complements and Katerina can craft curtains to rival any department store! With fall upcoming, why not reupholster your chair cushions or give your sofa a new look with festive pillows (or new cases)? Homeowners are amazed at the small touches they can do to alter the ambiance of a room. And if you're not sure which way to go – bold, muted, whimsical, traditional – Katerina has a skilled eye and can offer advice to wow friends and neighbors. She can even offer needlepoint embroidery or stitched monograms. What a wonderful hostess gift – monogramed towels! Bring in a set of bath towels or one special hand towel and Katerina will work her magic.

Customers who know and who have come to rely on Katerina may find Valentina or Antoaneta behind the counter from time to time. Since having her son last November Katerina spends a little more time at home with him but assures clients they are in good hands with either seamstress should she not be there.

For the convenience of her customers, Red Velvet Tailoring (6554 E. Cave Creek Rd.) is open Mon-Sat 9 to 5. Call 480-208-8699 for more information.