BY MARIELLE D. MARNE | OCTOBER 1, 2014
See new look, enjoy same fabulous food at Cibo e Vino's grand reopening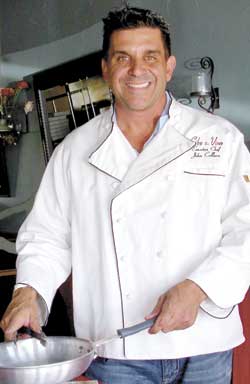 SCOTTSDALE – For three years, Cibo e Vino has delighted the palates of dedicated diners, so it is with great anticipation they await its grand reopening after a short shutdown for renovations. Chef and owner John Collura (r) said Cibo e Vino will go from 2,000 to 4,000 sf! The full bar will include 40 bar seats, and six TVs will be strategically placed for sports fans. Tables will be added to the patio alongside a cozy fireplace for the season and new furniture will give the eatery an updated ambience. Customers can expect even swifter service with the inclusion of four ovens.

Of course, true foodies tend not to come to Cibo e Vino for the décor! They love the authentic Italian cuisine and affordable pricing. Collura said with the grand reopening, there will be more seafood (always a favorite) and happy hour will be extended Monday to Friday 9 to 5 and all day Saturday and Sunday. There will be music, Thursday to Sunday, as well. Collura's goal is to be ever-improving, ever-evolving. He is excited to see the final product and is slated to share it with the public on Oct. 15. (Watch for ads in Sonoran News and on Facebook as details emerge.)

Chef Collura wants Cibo e Vino to be a local hangout for his neighbors. He wants to see the same faces for breakfast (how do donuts, espresso, oatmeal and/or crumb cakes sound?), lunch and dinner.

Regardless of the dining hour or fare, be sure to check out the newly remodeled Cibo e Vino to see why its accolades include a Best of Phoenix for the pizza (a slice of culinary heaven) or having been named one of the top 20 restaurants by AZ Republic.

Cibo e Vino is located 34522 N. Scottsdale Rd., Ste. D1 (Terravita Marketplace). Call 480-595-6600 or visit online www.ciboevinoaz.com.