SEPTEMBER 24, 2014
Set for Saturday, Oct. 4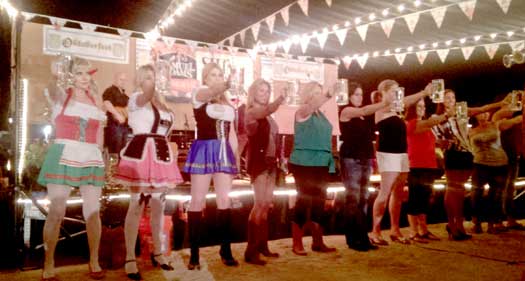 CAVE CREEK – Parents, teachers and supporters of seven area schools are invited to the 2nd Annual Oktoberfest PTO Charity Event at Harold's Cave Creek Corral on Sat., Oct. 4. The traditional Oktoberfest celebration features an authentic German buffet, live music by several German bands, a Bavarian beer garden and wine tastings and plenty of fun from 6 p.m. to 11 p.m. Net proceeds will benefit Parent Teacher Organizations (PTO) at Cactus Shadows High School, Sonoran Trails Middle School, Black Mountain Elementary School, Desert Sun Academy, Desert Willow Elementary School, Lone Mountain Elementary School and Horseshoe Trails Elementary School.

"We encourage everyone to join us for a festive 'Parents Night Out,'" said Jennifer Riley, PTO president of Black Mountain Elementary School and event chair. "Fundraisers like this are very important to PTOs because they allow us to support our schools with classroom materials, reading programs, technology, campus beautification and more."

Keeping up with the economy continues to be a challenge for schools, Riley, a parent to a 4th grader, said, and every dollar raised makes a difference. "Last year, our PTO provided iPads for classroom instruction that were equipped with educational apps. We also have purchased projectors and smart boards. This year, we'll be assisting with library improvements. Every school has a different need, and community support is greatly appreciated," she said.

As parents themselves, Harold's owners Danny Piacquadio and Bill Vale are dedicated to making the Oktoberfest PTO Charity Event one of Harold's premier events.

"Not only will guests enjoy delicious German fare and have the chance to sample 20 wines and 40 beer craft and imported beers, they'll be entertained by an oompah band, the Bouncing Czechs Polka Band and several local rock and country bands," Danny Piacquadio said. "Thanks to the generous support of the Kiwanis Club of Carefree, we're also planning a German costume contest, a Stein hoist competition and many other traditional games and activities."

Last year's event attracted 500 guests and raised more than $5,000 for six PTOs.
"Let's beat that number," Bill Vale said. "This event is truly about building community connections and I'd love to see us double that number."

Tickets for adults 21 and over cost $25 per person. Each ticket includes the German buffet and four tickets for wine and beer samples. Net proceeds benefit the seven PTOs.

Advance tickets are available at Harold's Corral, online at www.haroldscorral.com and through each of the PTOs. Tickets also will be available at the door.

Harold's Cave Creek Corral is located at 6895 E. Cave Creek Rd. For more information, call (480) 488-1906 or visit www.haroldscorral.com. To learn more about each PTO and each school's needs, visit www.CCUSD93.org.