SEPTEMBER 17, 2014
14th Annual Foothills Empty Bowls Project Lunch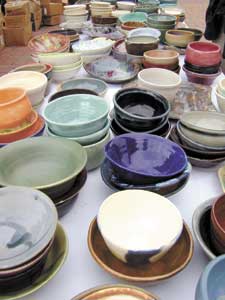 Event: 14th Annual Foothills Empty Bowls Project Lunch

To Benefit: Foothills Food Bank and Resource Center

Sponsored by: The Sonoran Arts League, the Town of Carefree and Carefree Resort & Conference Center, Marjon Ceramics & Laguna Clay

Date: Friday, October 17, 2014

Time: 11 a.m. to 1 p.m.

Location: Carefree Town Center

Admission: Patrons can purchase a hand-crafted ceramic or glass bowl for a minimum donation of $15 each. Cost includes pasta lunch provided by Carefree Resort & Conference Center. The event also includes a silent auction and boutique. Credit cards accepted.

Information: Call (480) 488-1145 or visit www.foothillsfoodbank.com or www.SonoranArtsLeague.org.