BY LINDA BENTLEY | SEPTEMBER 17, 2014
Former Councilman Bob Coady sworn in as 'Special Deputy'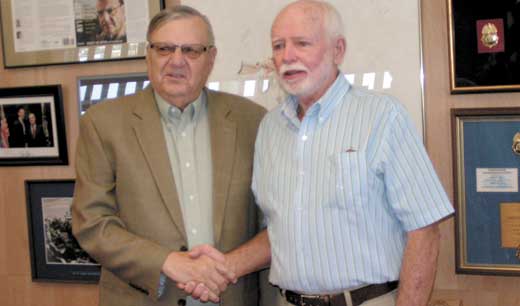 PHOENIX – Last week, Maricopa County Sheriff Joe Arpaio swore in former 12-year Carefree Councilman Bob Coady as a "Special Deputy."

Coady's wife Sue attended the event, which took place at Arpaio's new office in downtown Phoenix.

When Sue, who is a retired sheriff's deputy from Suffork County, N.Y., showed Arpaio her badge, he commented, "Wow, feel the weight of this badge. They don't make them like that anymore."

While serving on council, Coady was the liaison between Carefree and the Maricopa County Sheriff's Office (MCSO), regularly meeting with staff at the District 4 station in Cave Creek to discuss issues.

Coady, who developed a number of recycling events in the community, was the first in the nation to set up a prescription drug drop off program in coordination with MCSO.

Pleased with the community support for his programs, Arpaio often stopped by on the day of these events to thank Coady and his volunteers.

The Special Deputy designation awarded to Coady is in recognition of his high achievement and support to the MCSO organization.

It is the highest award MCSO gives to civilian volunteers.

While he is not expected, or required, to carry a gun or drive a patrol car as a Special Deputy, Coady said he would if Arpaio asked him to.

Because the Coadys recently relocated to Goodyear, the sheriff said he expects Coady to get involved in politics out there and to make sure he votes to reelect Arpaio, which Coady pledged he would.